UC Davis Children's Hospital patient becomes third person in U.S. to survive rabies

Slideshow: use arrows to view next slide.
Above: Jean Wiedeman, associate professor of pediatric infectious diseases, with her patient, Precious Reynolds.
Precious Reynolds thanks associate professor pediatric infectious diseases Jean Wiedeman.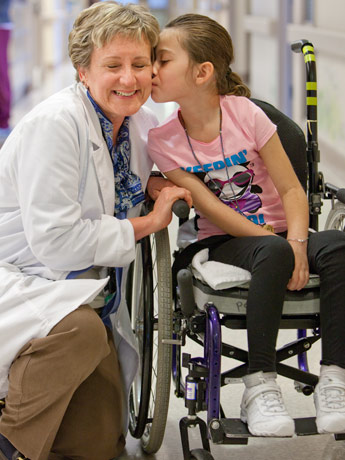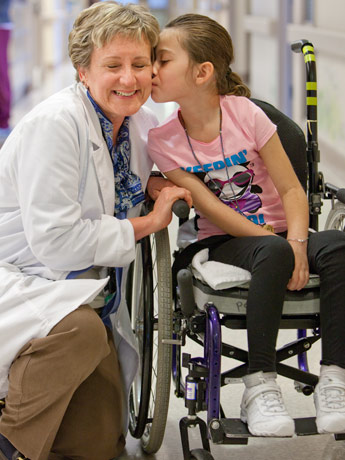 Orthotist Anthony DeMario, along with Precious's grandmother and father, test her new orthotics constructed to assist her to walk.
Remarkably, Precious already is walking after her bout with rabies. She is assisted by her father, Willie Reynolds, grandmother Shirlee Roby. Orthotist Anthony DeMario observes Precious's progress.
Posted June 15, 2011
Precious Reynolds, an 8-year-old resident of rural Humboldt County, has become the third person in the United States known to recover from rabies infection without receiving the rabies vaccine, through the efforts of a team of dedicated physicians, nurses and therapists at UC Davis Children's Hospital.
The hospital team was led by Jean Wiedeman, associate professor of pediatric infectious diseases. Wiedeman coordinated Precious' care with state, local and federal officials at the U.S. Centers for Disease Control and Prevention (CDC), the California Department of Public Health's Encephalitis and Special Investigations Section, and county health departments in Humboldt and Sacramento counties.
"Precious received superb care from everyone at UC Davis Children's Hospital," Wiedeman said. "And we were enveloped with support from the CDC and the state encephalitis group from the moment we learned she was infected."
Wiedeman said the consultations with national, state and local public-health officials occurred as often as 20 times a day in the early phases of the patient's treatment.
"From the very beginning, Precious had a very rapid, robust immune response to her infection, which is a significant contributor to why she survived," Wiedeman said. "She is truly a fighter."
Transmitted by contact with saliva
Rabies is a highly infectious viral disease of mammals that usually is transmitted by contact with the saliva of a rabid animal through a bite or scratch. Because pets and farm animals typically are inoculated against the disease, exposure commonly comes from a bat, skunk, fox or other wild animal.
While it is not known how she became infected, public health officials suspect Precious may have encountered a feral cat near her elementary school in the tiny town of Willow Creek, Calif., near the Humboldt County border with Trinity County, though the infected animal never was found.
Rabies infection in humans is exceptionally rare in the United States, Wiedeman said, with only two-to-nine cases reported each year. Many more people — some 30,000 annually — are exposed and receive post-exposure prophylaxis (PEP) to prevent disease.
Reynolds did not receive post-exposure prophylaxis, a series of antiviral inoculations administered following infection, because the date and nature of her exposure is not known. Rabies is virtually always fatal without PEP.
"From the very beginning, Precious had a very rapid, robust immune response to her infection, which is a significant contributor to why she survived. She is truly a fighter."
— Jean Wiedeman
Early symptoms
The virus affects the central nervous system, ultimately causing encephalitis, or acute inflammation of the brain and, eventually, death. Very early symptoms of rabies in people include fever, headache and general weakness or discomfort. As the disease progresses, however, more specific symptoms appear.
That was the case with Reynolds, according to her grandmother, Shirlee Roby.
"It started with a stomach ache," said Roby, who immediately took Precious to the family physician, who suggested she might have appendicitis and recommended she be seen at a local hospital. The hospital ruled out appendicitis and suggested she had a case of the flu.
But as the child's condition continued to decline, she became unable to swallow, and began to feel pain in her neck and back. Eventually she would lose muscle control and the ability to stand or walk. Roby returned Precious to the community hospital.
"This isn't the flu," she told them pointedly. "To me, it looked more like polio."
The hospital transferred the child by ambulance to McKinleyville, Calif., where she was flown to Sacramento and transported to UC Davis Children's Hospital. She was admitted through the pediatric emergency department to the pediatric intensive care unit (PICU).
There, Wiedeman and critical care medicine colleagues, including physicians Jennifer Plant, Theresa Murdock-Vlautin and Mac Wayment, among others, evaluated Precious and determined that she had encephalitis.
Wiedeman specializes in the treatment of children with infectious diseases. She has specific expertise in the management of complex clinical cases, especially those with problematic diagnostic and management intricacies. She provided samples of Precious' blood and spinal fluid to the state Encephalitis and Special Investigations Section of the California Department of Public Health, directed by Carol Glaser, a physician and veterinarian and associate professor of pediatric infectious diseases at UC San Francisco.
Decision on treatment
Test results returned on May 5 indicated that Precious had rabies. Wiedeman, along with the UC Davis pediatric critical care doctors, the CDC and state encephalitis group, decided to treat her with a therapy first used in Wisconsin in 2004 on a 15-year-old girl who contracted rabies from a bat bite. Her physician placed the girl in a drug-induced coma while administering antiviral medication. There has been one other survivor, a patient in Texas in 2009, who did not receive treatment with this approach.
About rabies
Exposure to the rabies virus is fatal unless post-exposure prophylaxis — inoculation with rabies vaccine — is administered immediately following exposure to the saliva of infected animals. The medications include one dose of rabies immune globulin and five doses of the vaccine administered over a 28-day period in a series of shots that are given in the arm like flu shots. Earlier rabies inoculations were administered in the abdomen daily for up to three weeks and were extremely painful. Modern vaccines are relatively painless.
The best defense against rabies is a good offense:  Avoid all contact with wild or feral animals — including foxes, skunks, raccoons and, particularly, bats. Finding a bat in the home, even if no bite or scratch is apparent, is considered an exposure. Animals that appear sick, injured or deceased also should not be approached, because they still are capable of transmitting the disease. Instead, animal control representatives should be contacted to assist sick or injured animals.
Domestic animals such as cats, dogs and ferrets that have been released or have escaped into the wild and become feral also should be avoided, because they can readily be infected with rabies. Of course, pets should be vaccinated against rabies. Similarly, it is recommended for horses and possibly farm animals living in rabies endemic areas. Rabies can infect all mammals, so farm animals also are at risk and can transmit the disease.
Children should be cautioned to never approach any unfamiliar animal. If they do and are scratched or bitten, they should be counseled to tell an adult right away.
For more information about rabies:
"This was a unique experience," Wiedeman said. "It was reassuring that the CDC and the state encephalitis group had our back," Wiedeman said. But more difficult was sharing the diagnosis with Roby and Precious' father, Willie Reynolds.
"You're aware that the child has a minimal chance of survival, that the protocol has been applied worldwide in 25 cases with only four survivors. You're not going to the family with good news if you've got a diagnosis of rabies. It's heartbreaking," Wiedeman said.
Team approach to care
"None of us thought she would leave the PICU. When she did it was unbelievable," said Krystle Realyvasquez, a nurse who cared for Precious when she was first admitted to the intensive care unit.
The protocol requires a team approach to the patient's care. Realyvasquez was among a handful of nurses who treated Precious during her intensive care unit stay.
"Being in that team environment, where everybody knows what's going on day-by-day, makes for more uniform care, so that we were better able to provide for her needs," Realyvasquez said.
As time passed, however, Precious' immune response gave Wiedeman and the rest of her health-care team and family reason for hope.
"I was very encouraged that with her diagnosis she continued to interact," Wiedeman said. "She was right there until we deepened her coma significantly. She could respond to you and had brisk pupillary responses throughout the coma. There were subtle signs that she was performing well given her diagnosis."
"To me, the most remarkable and lasting part of this experience is that you had a previously, healthy, very vigorous spunky little girl, who got diagnosed with an almost universally fatal disease, and none the less a dedicated team of physicians and nurses — and her father and grandmother, who never left her bedside — pulled her through this," said Jennifer Plant, assistant clinical professor of pediatric critical care medicine, a key member of the team. "In a year her grandmother is going to send me a video of her wrestling. I am exceptionally proud and happy."
Family remained positive
Roby said that she never gave up on her granddaughter.
"At first my heart sank to my feet. But I guess doctors have to put on a suit of armor to tell parents the truth," Roby said. "I decided that we were just going to think positive."
Roby's instincts were right. She said that Precious received "excellent, excellent" care for two weeks in the pediatric intensive care unit and later in the general pediatric patient-care unit where she continues to receive treatment. The athletic little girl — a wrestler and rodeo sheep rider or "mutton buster" — is back on her feet and beginning to walk with the help of physical medicine and rehabilitation.
Roby said that she is grateful to everyone who has cared for her granddaughter — particularly Wiedeman, for her devoted care for Precious.
"She fought for Precious tooth and nail," Roby said. "She is something special to me."
Guidance for children
Wiedeman and Roby cautioned parents to admonish their children to avoid any and all contact with wild or feral animals — particularly bats. If exposed, Wiedeman said, rabies is completely preventable with a vaccine that is far more sophisticated than the multiple painful inoculations of the past.
Roby agreed.
"Talk to your kids about any kind of animal scratching or biting them. The shots don't hurt. They're a little expensive — but not half as expensive as having a loved one go through this."
UC Davis Children's Hospital is the Sacramento region's only nationally ranked, comprehensive hospital for children, serving infants, children, adolescents and young adults with primary, subspecialty and critical-care services. It includes the Central Valley's only pediatric emergency department and level I pediatric trauma center, which offers the highest level of care for critically ill children. The 110-bed hospital includes a 49-bed, state-of-the-art neonatal intensive care unit and a 16-bed pediatric intensive care unit. With more than 120 physicians in 33 subspecialties, UC Davis Children's Hospital has more than 74,000 clinic and hospital visits and 13,000 emergency department visits each year. For more information, visit children.ucdavis.edu.