Virtual reality: An intervention for autism
Posted Sept. 8, 2010
Peter Mundy believes that because the brain continues to develop until a person is 18, intervention through adolescence is both a moral and neurodevelopmental imperative.
Mundy, the Lisa Capps Chair for Neurodevelopmental Disorders and Education, is a professor of education and of psychiatry and behavioral sciences, and the director of educational research at the UC Davis MIND Institute.
One goal of Mundy's educational research efforts is to find new ways to help high-functioning children with autism. Thirty to 45 percent of persons with autism are high functioning. Most attend schools where they may spend part of their time in the classroom with typically developing children, and they want to fit in. To that end, Mundy is leading a promising research project testing virtual reality that he hopes will teach these children to make eye contact more readily.
"Looking at other people, and especially making eye contact, improves social communication and social learning," said Mundy. "Making eye contact while talking can be difficult for many people. This is especially true for children with autism spectrum disorders."
The project, created in collaboration with UC Davis postdoctoral scholar William Jarrold and groups at the University of Southern California and Stanford University, brings study participants into the research laboratory and places them before a computer screen.
Read Mind Matters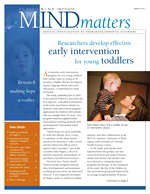 Click here to read the Spring 2010 issue of the MIND Institute's newsletter, MIND Matters. Learn more about the institute's advances in research, clinical care and education for children with autism and other neurodevelopmental disorders.
The glasses they wear allow a computer to track their head movements and determine where their gaze falls. Then they're asked to read aloud and periodically look at each of three faces on the screen — or they'll disappear.
"We're exploring the use of virtual reality methods to help children with autism practice and feel more comfortable with looking at other people while talking," Mundy said.
Mundy's group has recruited 40 children aged 8 to 18 years to take part in the experiment. If the approach works, it could be adapted to multiple training protocols. Most importantly, such experiments help expand knowledge about the adolescent brain in general.
"We are just beginning to learn how the ability to talk and make eye contact changes and develops between 8 and 18 years of age in all children," Mundy said.