FEATURE | Posted June 21, 2016
Important notice regarding patient and visitor parking
Parking Structure 1 conversion, July 1, alternate parking available
As of July 1, patients and visitors at UC Davis Medical Center will no longer use Parking Structure 1 (PS1). The conversion of PS1 to an employee-only facility will support UC Davis Medical Center's plan to comply with state-mandated seismic safety standards.

The change is one part of necessary steps to accommodate multiple upcoming improvements projects involving both the demolition of existing structures and the construction of new facilities.

Alternate parking lots are available to all patients and visitors who may be affected by this change. Informational signage will be posted to help notify and inform visitors of their best parking options.
Additional parking options are available, as follows.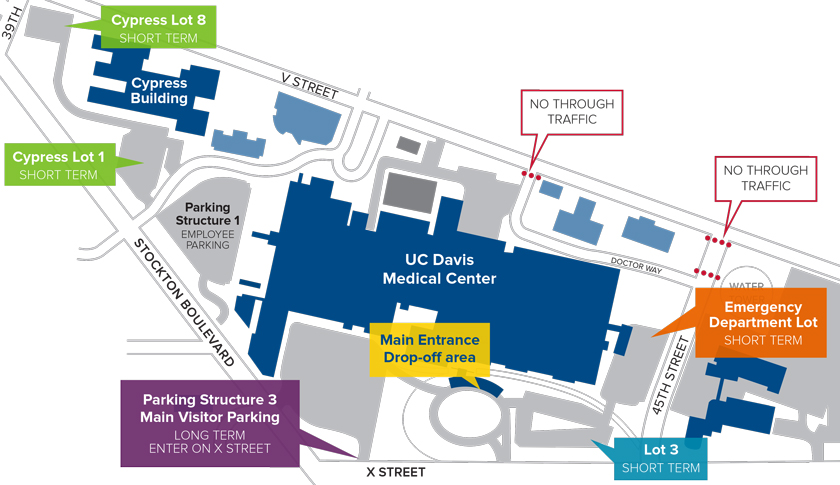 If you are visiting the Cypress Building or surrounding locations:
Short-term parking is available in Lot 1, the metered lot at the south side of the Cypress Building, facing Stockton Boulevard. Disabled parking is available at this location. Additional short-term parking is available in Lot 8, around the front of the Cypress Building, adjacent to 39th Street.
If your appointment is in the hospital:
Both short- and long-term parking is available in Parking Structure 3, with an entrance on X Street. Patients and visitors may park in the Lower Level, Level 1, and Level 2. There is no time limit on parking in Parking Structure 3.
Please remember to take your entry ticket with you and pay at the central cashier or automated pay stations before returning to your vehicle – you will not be able to to exit without a paid ticket.
Additional short-term parking may be available in Lot 3 between the main hospital entrance and the emergency department, also with a maximum stay of 2.5 hours.
For future reference download a printable parking map, here.
Read other feature stories