FEATURE | Posted Jan. 7, 2014
Keep youth sports healthy
Help kids avoid sports-related injuries
Whether they help to boost a child's self-worth, stave off premature obesity or develop leadership skills, soccer and other sports play a crucial role in nurturing the physical and mental well-being of children and adolescents.
But despite the typical child's limitless energy (and seemingly rubberized limbs), it's as important for them to prepare properly for sports activities as it is for the pros. The wrong approach can mean a recurring muscle pull, a devastating ligament tear, a hernia or another problem that spoils the fun now and threatens to trouble a young athlete through the rest of a possibly-shortened sporting career.
"Sports medicine starts long before the athlete is actually injured – and child athletes sustain injuries just like adults," says Mo Mortazavi, director of the Pediatric Sports Medicine Clinic at UC Davis Children's Hospital. "It's important for adults and coaches to provide model of healthy participation and injury prevention for all children."
Be prepared to play
Despite a child's ability to burn calories at a fantastic rate, just being young in years is by itself not a guarantee that a child is in "playing shape." To avoid a vicious cycle of debilitating injuries that can rob a kid's passion or ability, parents and coaches must ensure that a youngster's body is adequately prepared for the rigors of practices and games.
"By concentrating only on drills, or on rushing a child into competition right away and trying to 'play them into shape,' a coach or parent runs the risk of injury and burnout."
— Mo Mortazavi
"The American College of Sports Medicine puts it well – in addition to knowing the rules of a game, a young athlete needs to be in shape to play the game," Mortazavi says.
This generally means designing offseason conditioning programs to enhance general fitness and support the integrity of the growing musculoskeletal system – rather than maximizing the amount of drilling and scrimmage time.
"By concentrating only on drills, or on rushing a child into competition right away and trying to 'play into shape,' a coach or parent runs the risk of injury and burnout," Mortazavi says. "Also, overemphasis on drills can artificially limit a youth's physical fitness to a very narrow set of skills, and reduce the general fitness they need for other activities and for healthy young life in general."
Preventing injury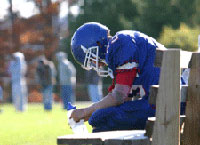 Be safe about concussions
They're serious health events to be handled with caution and care.
Read more
The American College of Sports Medicine or ACSM suggests putting youth athletes through at least six to eight weeks of preseason conditioning prior to participation in sports, Mortazavi says. A pre-sports physical examination may also be in order help to identify risk factors – such as poor flexibility or poor physical condition – that can be corrected before an injury occurs.
Some common risk factors for sports-related injury in the inexperienced pediatric athlete can include:
improper footwear
hard playing surfaces
poor nutrition
muscle imbalances, and

limited background level of general activity, increasingly common in the "wired" age.
Training guidelines
It's vitally important for coaches and trainers to provide youth athletes with specific information about how to train properly, Mortazavi said. That means nailing down details about types of exercises, intensity, duration and frequency.
A combination of strength, aerobic and flexibility exercises performed two to three times a week on nonconsecutive days is the current ACSM recommendation. "Core" strengthening exercises for the abdominals and lower-back muscles should be performed to help prevent back injuries. General exercises that improve balance and coordination are equally important.
"It is also crucial to identify sport-specific injury risks – such as throwing injuries from baseball, soccer-related knee ligament tears and "gymnast wrist" – and focus some training to prevent them as well," Mortazavi said.
Strength training
For more information about repetitions and weight loads, download the ACSM's "Youth Strength Training" fact sheet.
According to the ACSM, a variety of training programs with different types of equipment (bands, tubes and machines) designed for children have proven to be safe and effective for youth athletes. However, proper guidelines and competent supervision are essential, and the athletes themselves must have the emotional maturity to accept and follow directions.
"No matter how well-designed the program is, the kids don't get the benefits if they aren't following directions for whatever reason – which usually boils down to maturity or interest," Mortazavi said. "If they're not paying attention, they risk injury before they reach the field."
That's why the ACSM stresses that youth strength training programs must be closely supervised by knowledgeable instructors who understand the uniqueness of children and can provide proper instruction about crucial topics such as support or "spotting" procedures, controlled movements and warm up/cool down.
There are no current strict evidence-based guidelines on youth resistance training – but given their different bone structures and multiple growth plate, high-intensity resistance and heavy weights should be avoided in growing athletes, Mortazavi said.
A good general guideline is to begin with more stable machines (rather than free weights), and to keep repetitions to 12-16 per set, with a heavy focus on form and technique.
Weight advancement should be no more than 5 to 10 percent per session
Repetitions should be no less than eight per set at any weight level.
Advancing to free weights should be conducted cautiously, with supervision at all times and starting with low weight levels and smaller muscle groups to build a good base of support.
Read other feature stories