Ian McHardy, Ph.D.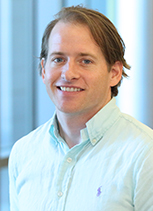 Assistant Professor
3140 Tupper Hall
Davis Campus
530-754-5320
e-mail
Dr. McHardy is Assistant Professor of Medicine at the University of California, Davis, School of Medicine in the Department of Medical Microbiology and Immunology. With expertise in basic and translational research involving multi-omic data integration, bioinformatic development, and clinical microbiology, his ongoing research program involves I) Development and optimization of new clinical microbiology diagnostics; II) Investigation of mechanisms of microbial virulence and host-microbe interactions in human diseases; and III) Study of antimicrobials and antimicrobial resistance.
Dr. McHardy is co-director of the UC Davis Coccidioidomycosis Serology Laboratory, which serves as the gold standard reference laboratory for serologic diagnosis of Valley Fever and receives both human and veterinary specimens from across the world. The serology laboratory plays key public health roles in detecting and reporting of cases of Coccidioidomycosis.
Dr. McHardy is also co-director of the UC Davis Center for Valley Fever, a consortium of 10 faculty whose mission is to improve patient care, diagnosis, and treatment of patients. Key activities of the Center for Valley Fever include educational outreach to improve public awareness and influence public policy.