Jogender Tushir-Singh, Ph.D.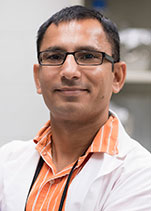 Associate Professor
3437 Tupper Hall
Davis Campus
e-mail
Research Interests
Dr. Tushir-Singh's research focuses on using protein engineering and multi-targeting antibodies in the context of human cancers and other pathologies. He is particularly interested in targeting the differential clinical response of immunotherapies and chimeric-antigen receptor (CAR) cells in solid vs. liquid tumors. Using natural ligands and clinically tested antibodies, he has recently focused on unraveling the unusual apoptotic regulatory motifs, and immunomodulatory cancer signaling pathways downstream of solid tumor enriched death receptor-5 (DR5). For testing hypothesis-driven tumor therapeutics approaches, he extensively uses ovarian and triple-negative breast cancer (TNBC) models in the lab. He is also eager and interested in dual-specificity CAR targeting approaches in ovarian and TNBC models along with SARS-CoV-2 spike processing (S0-S1/S2) inhibition strategies in viral-producing cells.
Laboratory Keywords: Antibody therapeutics, Protein Engineering, Cancer Immunotherapy, Dual-Specificity antibodies, Cancer Cell Death
Graduate Group Affiliations
G. Shivange G, T. Mondal et al., J. Tushir-Singh, A patch of positive charged residue regulate cytotoxic efficacy of clinical DR5 agonist antibodies in solid tumors. Cell Reports (In press).
Lum LG, Tushir-Singh J, Arming "old guards" with "new dual-targeting weapons". Cancer Cell (2021) May 10;39(5):604-606.doi: 10.1016/j.ccell.2021.04.010
Dillon PM, J. Tushir-Singh, Lum LG, Bispecific antibodies for the treatment of breast cancer. Expert Opin Biol Ther (2021) May 9;1-11.doi: 10.1080/14712598.2021.1922665.
Mondal T, Shivange G, Urbanek K, Rachisan G.T., Batista M, Talwar P, Lyerly E, Mosavian R, Stack S, Bhatnagar S, and J. Tushir-Singh. Unexpected Immune Evasion by DR5 Agonist Antibodies in Solid Tumors. EMBO Molecular Medicine(2021 Feb) 13(3): e12716.
Przanowski P, Lou S, Mondal T, Djiake R, Conlan C, Shivange G, Saltani I, Xing K, Morris B, Mayo M, Teixeira L, Lehmann-Che J, J. Tushir-Singh, and S. Bhatnagar. Oncogenic TRIM37 links chemoresistant and metastatic fate in triple negative breast cancer. Cancer Research (2020)
Shivange G, Mondal T, and J. Tushir-Singh. Analyzing Tumor and Tissue Distribution of Target Antigen Specific Therapeutic Antibody. J. Vis. Exp. e60727, (2020)
Shivange G, Piotr Przanowski, Justin Perry, Robert Haggert, James Jones, Christina Koska, Charles N. Landen, Karol Ubanek, Marty Mayo, Kodi S. Ravichandaran, Sanchita Bhatnagar and J Tushir-Singh. A Single Agent Dual Specificity Targeting of FOLR1 and TRAIL-R2 as an Effective Strategy for Ovarian Cancer. (2018), Cancer Cell, 34, 1-15
J Tushir-Singh, Antibodies-siRNA conjugates: drugging the undruggable for anti-leukemic therapy. (2017) Mar;17(3):325-338. Expert Opinion in Biological Therapy
Shulha HP*, Crisci J*, Reshetov D*, Jogender Tushir-Singh*, Cheung I, Bharadwaj R, Chou HJ, Houston IB, Peter CJ, Mitchell AC, Yao WD, Myers RH, Chen JF, Preuss TM, Rogaev EI, Jensen JD, Weng Z, Akbarian S. Human-specific histone methylation signatures at transcription start sites in prefrontal neurons. PloS Biology 2012, Nov 10(11): e1001427. PMCID: PMC3502543 *Equal Contribution Co-First Authors
J Tushir-Singh,Zamore PD & Zhang Z. Mouse piRNAs, Piwi Proteins and Ping Pong Cycle. Cell 2009 Nov 13;139(4):830-830.e1. doi: 10.1016/j.cell.2009.10.042
J Tushir-Singh, Zamore PD & Zhang Z. Fly piRNAs, Piwi Proteins and Ping Pong Cycle. Cell 2009 Oct 30;139(3):634-634.e1. doi: 10.1016/j.cell.2009.10.021
J Tushir-Singh, Clancy J, Warren A, Wrobel C, Brugge, JS, and D'Souza Schorey, C. Unregulated ARF6 activation in epithelial cysts generates hyperactive signaling endosomes and disrupts epithelial morphogenesis. Mol Biol Cell 2010 July:21(13) 2355-66. PMCID: PMC2893997
J Tushir-Singh and D'Souza-Schorey C (2007) ARF6-dependent activation of ERK and Rac1 modulates epithelial tubule development. EMBO J 2007 Apr 4;26(7):1806-19
We are actively looking for motivated project assistants, students and postdocs. If interested in joining our team, please reach out directly via jtsingh@ucdavis.edu