Three of the Top 10 Autism Studies of 2019 come from UC Davis MIND Institute
Top studies from MIND explore early interventions and new school transitions for children with autism
(SACRAMENTO)
On Jan. 27, Autism Speaks announced its annual selection of studies that "advance its mission of enhancing lives today and accelerating a spectrum of solutions for tomorrow." Three of the top 10 autism studies of 2019 came from UC Davis MIND Institute's Collaborative START Lab.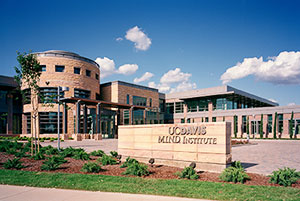 Every year Autism Speaks, the largest autism advocacy organization in the U.S., asks its science leadership and Medical and Scientific Advisory Committee to select the best studies on autism research published in scientific journals during the previous year. This year's selection came from more than 2,000 autism research reports.
"We are very proud of the research conducted by MIND Institute investigators and how it is advancing our understanding of autism and exploring ways to improve the quality of life for individuals and their families," said Len Abbeduto, director of the UC Davis MIND Institute.
In the Screening and Intervention category, two of the three selected studies were led by the MIND Institute's researchers.
Sally Rogers and her team published a study in the Journal of the American Academy of Child and Adolescent Psychiatry on the Early Start Denver Model (ESDM). They compared the effectiveness of ESDM, an evidence-based early intervention for very young children with autism, to community interventions. Their study, conducted at three sites, partially replicated studies on ESDM's effectiveness in developing language skills and affecting autism-related behaviors.
"Very few early intervention approaches for autism spectrum disorder have conducted multiple randomized trials," said Sally Rogers, professor in the UC Davis Health Department of Psychiatry and Behavioral Sciences and at the MIND Institute. "We were delighted to demonstrate again the power of the ESDM approach to language development, which is one of the single best predictors of better outcomes in school and in adulthood for children with autism."
Another study by Allison Nahmias, Aubyn Stahmer, and their colleagues at the University of Pennsylvania, published in the Journal of Child Psychology and Psychiatry, pointed to the large gaps in outcomes of early intervention programs for children with autism spectrum disorder. They found that, on average, early interventions associated with universities and hospitals were superior to those provided in community settings.
The third study, recognized in the Advances in Health Equity and Lifespan Issues category, was co-authored by Aubyn Stahmer and Peter Mundy. It highlighted the need to develop "systems of support" to help guide students with autism and their families through new school transitions. The study found three effective strategies during such stressful transitions: personalized support, parent information on the transition process and improved communication – both between schools and between school and home.
"Our collaboration with the Autism Intervention Research Network on Behavioral Health allows us to work directly with families and schools to develop evidence-based interventions that help low-resource families support their students with autism," said Aubyn Stahmer, professor of clinical psychiatry and director of Community-based Treatment Research at the MIND Institute.
"At the MIND, we work to make tomorrow better for all individuals with neurodevelopmental disabilities and their families," Abbeduto said.
The featured studies:
A Multisite Randomized Controlled Two-Phase Trial of the Early Start Denver Model Compared to Treatment as Usual. Rogers SJ, Estes A, Lord C, Munson, J., Rocha, M., Winter, J., Greenson, J., Colombi, C., Dawson, G., Vismara, LA., Sugar, CA, Helleman, G., Whelan, F., & Talbott, M.. Journal of the American Academy of Child and Adolescent Psychiatry. 2019 Sep;58(9):853-865.
Effectiveness of community‐based early intervention for children with autism spectrum disorder: a meta‐analysis. Nahmias, AS, Pellecchia, M, Stahmer, AC, and Mandell, D.S. (2019). Journal of Child Psychology and Psychiatry, 60: 1200-1209.
Broken bridges-new school transitions for students with autism spectrum disorder: A systematic review on difficulties and strategies for success. Nuske HJ, McGhee Hassrick E, Bronstein B, Hauptman, L., Aponte, C., Levato, L., Stahmer, A.C., Mundy, P., Kasari, C., & Smith, T.. Autism. 2019 Feb;23(2):306-325.
About the UC Davis MIND Institute:
The UC Davis MIND Institute is a collaborative international research center, committed to the awareness, understanding, prevention, and treatment of the challenges associated with neurodevelopmental disabilities. For more information, visit mindinstitute.ucdavis.edu.
About the Collaborative START Lab:
At the Collaborative START Lab, we work to design, evaluate, and deliver effective interventions for people with autism spectrum disorder and their families. We seek collaborative, reciprocal relationships with people with autism, family members, trainees, community members, and colleagues to translate evidence-based treatment into effective, publicly-funded community services that reach those who need higher quality care.