Neurological Surgery Resident Applicant Information
We welcome your interest in the Department of Neurological Surgery Residency Program at UC Davis. Due to the COVID pandemic we will conduct virtual interviews on December 7th and December 14th, 2021. Please take a moment to watch our videos and learn about what our program has to offer. The Society of Neurological Surgeons has developed the Neurosurgical Policy on Interviews and Recruitment during the COVID-19 pandemic, as well as FAQ's for the Letter of Recommendation template, which are now posted on the SNS website. We encourage you to review this information.
Letter From the Program Director:
Dear Prospective Residents,
Thank you for your interest in our neurosurgery training program at the University of California, Davis! We are very excited about the quality of our program, which provides a comprehensive training experience in all neurosurgical subspecialties. Our program was founded in in 1967 by Professor Julian Youmans, the founding editor of the textbook series titled "Youmans Neurological Surgery". Over the past 53 years, the program has experienced significant and exciting growth and we have successfully trained many neurosurgeons that have gone on to establish very successful and fruitful careers.
Located in the state capitol of Sacramento, UC Davis Medical Center is a world-class hospital ranked #1 in the region by the US News & World Report. UCDMC serves as the region's only Level 1 Adult and Pediatric Trauma Center, and it the only academic medical center for a very large Northern California catchment area that includes 65,000 square miles, 33 counties, and over 6.5 million people. The hospital has 627 beds, 30 operating rooms, and 80 adult and 24 pediatric ICU beds. The clinical campus includes the following Centers of Excellence: Comprehensive Cancer Center, Children's Hospital, Trauma Center, MIND Institute and Telehealth Program. In addition to UCDMC, our PGY4 and PGY7 residents also rotate at Kaiser Permanente Medical Center in Sacramento.
Our training program provides exposure to all neurosurgical subspecialties: neuro-oncology, skull base and pituitary surgery, endovascular surgery, cerebrovascular neurosurgery, epilepsy and movement disorders, peripheral nerve surgery, pediatric neurosurgery, complex and minimally invasive spine surgery, stereotactic radiosurgery, and traumatic brain injury/neurocritical care.
Tuesday mornings are dedicated to educational and clinical care conferences, with active resident involvement and participation. These include neuroradiology teaching conference, mock oral boards, journal club, surgical approaches conference, Grand Rounds, research conference, faculty lecture series, and neuropathology review sessions. Clinical case conferences include brain tumor board, epilepsy conference, deep brain stimulation conference, skull base tumor board, and vascular conference. Residents also participate in a monthly Leadership Development Program and every fifth Tuesday is dedicated for an off-site, team-building event for the resident team.
Our faculty members are dynamic, involved, and dedicated to providing outstanding patient centered care and committed to resident training. They are academically productive clinician-scientists with exciting research programs at the frontiers of neurosurgery, such as, treating spina bifida with fetal surgery, separating craniopagus conjoined twins, using photonics to distinguish tumor margins and creating vascularized brain organoids (to name a few). Our innovative faculty members provide our trainees with support, direction and the opportunity to engage in exciting clinical cases and research. In addition, our department faculty includes neuroscientists with NIH-funded laboratories at the UC Davis Center for Neuroscience. This provides our residents with exposure to renowned translational scientists, who act as advisors and mentors to residents throughout their training. The residency program includes dedicated time that residents can choose to invest in the lab on a scholarly project.
It's a wonderful time to be a part of the Department of Neurological Surgery at UC Davis. We would welcome your joining us for Grand Rounds on November 2nd at 9:30 am PST and appreciate your interest in our program!
Best wishes,
Kia Shahlaie, M.D., Ph.D., F.A.A.N.S.
Professor, Residency Program Director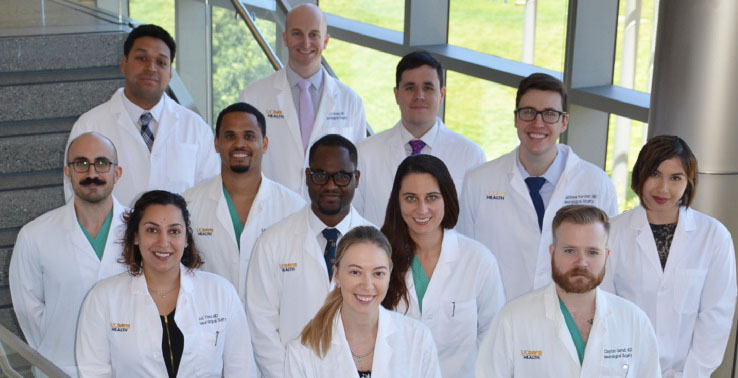 UC Davis ranks among the top 50 U.S. hospitals for adults and children and one of the top six hospitals in California as ranked by U.S. News and World Report. Read the UC Davis Health 2020 Points of Distinction to see what makes us one of the best.
Learn more about UC Davis Medical Center which serves the Sacramento Community: