Cancer news now available via podcast
UC Davis Comprehensive Cancer Center's debut of podcast features in-depth chat with center's director
(SACRAMENTO)
The UC Davis Comprehensive Cancer Center has launched Beat Cancer, a new podcast that offers an in-depth discussion of the science, research, and advancements taking place at UC Davis Comprehensive Cancer Center. The podcast will also share the latest cancer news including prevention, screening and treatment and discuss how UC Davis is breaking barriers to beat cancer in our region and beyond.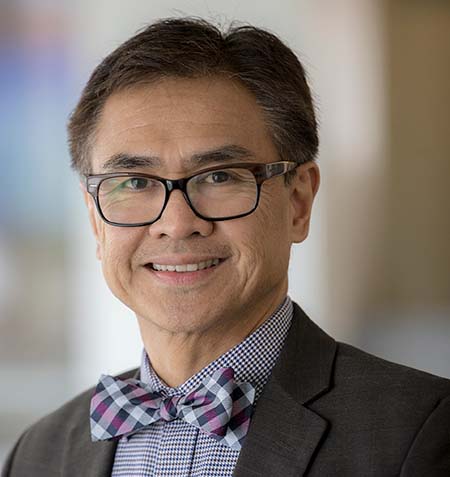 The podcast is co-hosted by the cancer center's external communications team (and former broadcasters) Chris Joyce and Stephanie Winn.
The first episode of Beat Cancer is an in-depth conversation with the director of the cancer center, Primo "Lucky" Lara, Jr., who talks about his vision for the new Center for Advancing Cancer Health Equity. He also provides the back story on his nickname "Lucky" and the journey that brought him to the United States. Lara is the first Filipino American in the country to serve as a director of a National Cancer Institute-designated cancer center.
The next episode of Beat Cancer airs next month and will focus on new cellular therapies for multiple myeloma and other blood cancers. UC Davis Comprehensive Cancer Center has some exciting clinical trials underway that are giving patients a second chance at life.
Find Beat Cancer on the cancer center's website or your favorite podcast platform. And, if you would like a certain cancer topic covered, email us at beatcancer@ucdavis.edu.
UC Davis Comprehensive Cancer Center
UC Davis Comprehensive Cancer Center is the only National Cancer Institute-designated center serving the Central Valley and inland Northern California, a region of more than 6 million people. Its specialists provide compassionate, comprehensive care for more than 100,000 adults and children every year and access to more than 200 active clinical trials at any given time. Its innovative research program engages more than 240 scientists at UC Davis who work collaboratively to advance discovery of new tools to diagnose and treat cancer. Patients have access to leading-edge care, including immunotherapy and other targeted treatments. Its Office of Community Outreach and Engagement addresses disparities in cancer outcomes across diverse populations, and the cancer center provides comprehensive education and workforce development programs for the next generation of clinicians and scientists. For more information, visit cancer.ucdavis.edu.