Hospital patients receive haircuts for the holidays
(SACRAMENTO)
Ina Green usually gets her hair cut once a month, but due to her extended stay at UC Davis Medial Center, it had been 69 days since her last cut – she was counting!
That all changed on Wednesday, Dec. 15, when stylists from Salon Paisley visited the medical center to give haircuts – or CAREcuts - to patients as part of The CARE Project. The project provides direct patient-care interdisciplinary services through a recreation and creative arts therapy program. It enhances the healthcare environment and aids in healing and recovery for patients at UC Davis Medical Center through Compassion and Creativity (C), Amenities and Art (A), Recreation and Relaxation (R), and Education (E).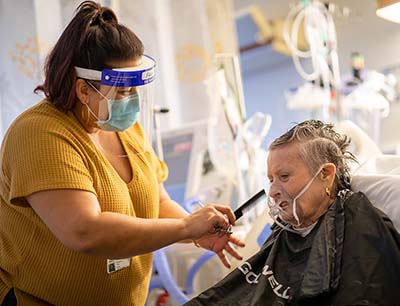 "I want my hair cut short," said Green, who was excited to receive a haircut and a little extra pampering from Maricela Fry, owner of Salon Paisley. The team of four stylists provided haircuts to 13 patients.
"The haircuts bring the patients such joy when they are going through a hard time, especially around the holidays," said Fry. "It's a way to give back, and I am so thankful for my team who volunteered to help make it happen."
"We are so grateful for the team from Salon Paisley and The CARE Project for hosting this event," shared Chief Nursing and Patient Care Services Officer Toby Marsh. "A haircut may seem like a small thing, but it makes a big impact on our patients, and it brings them such happiness. We were delighted to provide this experience for our patients, and we look forward to the next one!"
This was the first CAREcut event and the team hopes to host the event quarterly in the future.