Patients receive infusion care from the comfort of their home
(SACRAMENTO)
When Lala Johnson began cancer treatment late last year at UC Davis Health, she felt worn-out. Simple everyday things, like getting dressed or commuting from one destination to another, were very challenging.
"Chemo treatment is time-consuming," Johnson said, "and the therapy can drain your energy."
Traveling more than 20 miles for chemotherapy to the Comprehensive Cancer Center, several times a week, then undergoing hours of treatment, also left Johnson tired and severely dehydrated. Concerned about her health, the clinical care team devised a new plan for Johnson: They added hydration therapy to her treatment. The best part? She wouldn't have to travel beyond her own living room.
Johnson is one of the first patients to benefit from UC Davis Health's new home infusion program.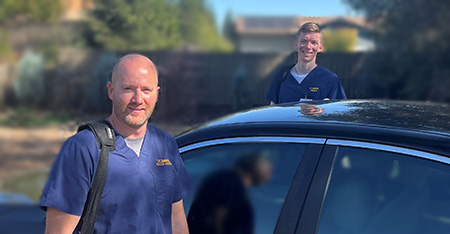 When I heard about the program, I was thrilled! I may have even cried," Johnson said. "The home infusion nurses, Mark Brooks and Paul Harreld, really rolled out the 'red carpet' for me. They weren't just nurses providing me hydration therapy at my house; they were like extended family to me. They always asked me how I was doing, and asked questions to help find ways to make me feel more comfortable."
In addition to battling cancer, Johnson lives with multiple sclerosis (MS). Hydration is essential for people with MS because they are more susceptible to getting urinary tract infections (UTIs). Aware of this, nurses Brooks and Harreld took a holistic approach to Johnson's care and monitored symptoms that could be tied to the cancer or MS.
They weren't just nurses providing me hydration therapy at my house; they were like extended family to me. They always asked me how I was doing, and asked questions to help find ways to make me feel more comfortable."
On a mission to improve patients' quality of life
Home infusion for UC Davis Health patients was merely an idea two years ago.
Today, the program consists of a robust team – 11 members to be exact – including home infusion nurses, clinical pharmacists, pharmacy technician navigators and administrators. David Vermeulen, service line manager for home infusion, built the program from scratch.
Vermeulen is committed to making this program extraordinary.
"We've been hyper-focused on making this the best, user-friendly experience for everyone involved — both from patient and provider perspectives," Vermeulen said.
Currently, most home infusion medications are for patients with gastrointestinal diseases. Within the next couple of months, however, the team plans to expand its services to other outpatient specialties such as genetics, neurology, immunology, rheumatology, and pulmonology.
"Ultimately, our goal is to serve patients within the 33 counties that UC Davis Health covers, but it will take some time to get to that level," Vermeulen said. "I feel very fortunate to have the opportunity to come to work every day and create something that did not previously exist. I can't wait to see where we are a year from now."
The farthest the team has traveled is Truckee — about 80 miles from the home infusion team's Rocklin base. Other locations outside Sacramento include Walnut Grove, Granite Bay, El Dorado Hills, Woodland, Lincoln and Placerville.
"The ability for us to provide home infusion services is another way that we continue to transform the care we provide to our patients, allowing them the comfort of being in their home," explained Chad Hatfield, chief pharmacy officer. "This aligns with our ability to ensure that patients are being cared for by UC Davis Health, from clinic to hospital to home."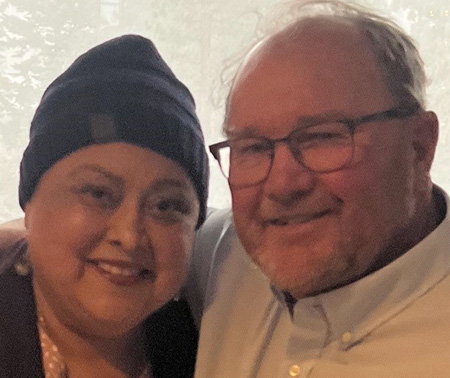 Johnson, whose quality of life has improved drastically since receiving services at home, knows how vital the full scope of care can be.
At one of her home appointments, nurses Brooks and Harreld suspected that Johnson had a UTI and suggested she contact her primary care doctor. She followed their guidance and learned she indeed had a UTI. Thankfully, she was able to get treatment early and avoid problematic symptoms.
"I cannot say enough about this program," Johnson said. "I feel so grateful for the UC Davis Health staff at the oncology 8th floor of the hospital, my oncology doctor, Dr. Estaghamat, and the home infusion nurses."
Furthermore, hydration therapy at home, which concluded a few months ago, has given Johnson the gift of time to rest and recover – a treasure that is often underestimated. Thanks to the home infusion program, Johnson has been able to participate in activities that bring her joy, like taking a trip to Tahoe.
"This program is a game-changer," Johnson added.
If you have questions about the home infusion program or eligibility requirements, please email the home infusion team at hs-homeinfusion@ucdavis.edu.