Richard Bold receives top award from the American College of Surgeons Commission on Cancer
(SACRAMENTO)
Richard Bold, UC Davis Comprehensive Cancer Center physician-in-chief and surgical oncologist with the UC Davis Department of Surgery, has been recognized for his outstanding service to cancer care by the American College of Surgeons Commission on Cancer (CoC). Bold was selected as one of four CoC "state chairs" in the country.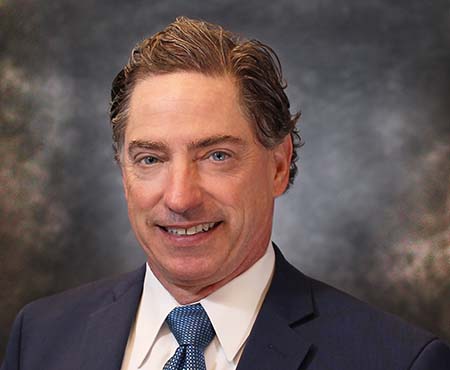 "I appreciate receiving this honor and to be included in such an esteemed group of individuals working to improve outcomes and cancer care for our communities," said Bold.
As a CoC state chair and American Cancer Society Commission on Cancer Liaison Physician (CLP) for the UC Davis Comprehensive Cancer Center, Bold received the 2021 State Chair Outstanding Performance Award for going above and beyond the scope of the normal duties. The CoC Cancer Liaison Program is composed of a network of 1,500 CLPs serving CoC-accredited cancer programs, and approximately 64 "state chairs" who provide leadership to the CLPs in their state or region.
The State Chair Outstanding Performance Award recognizes individuals who exhibit outstanding leadership and innovation and who make significant contributions to the improvement of cancer care in their state. In this role, Bold is responsible for supporting CoC-accredited cancer programs in California, communicating with the cancer liaison physicians serving in these programs, and collaborating with partners such as their American College of Surgeons chapter, American Cancer Society regional staff, and the state Comprehensive Cancer Control Coalition.
"This award is a testament to the leadership and commitment of Dr. Bold and to the coordinated efforts of the caregivers, clinicians and researchers at the UC Davis Comprehensive Cancer Center. All with the goal of ensuring the highest quality and most compassionate care for cancer patients," Diana Farmer, chair, UC Davis Department of Surgery.
Established in 1922 by the American College of Surgeons, the Commission on Cancer is a consortium of professional organizations dedicated to improving survival and quality of life for cancer patients through standard-setting, prevention, research, education, and the monitoring of comprehensive quality care. The Commission on Cancer and the American Cancer Society have a long-standing history together and have shared major milestones in more than 90 years of working together.
UC Davis Comprehensive Cancer Center
UC Davis Comprehensive Cancer Center is the only National Cancer Institute-designated center serving the Central Valley and inland Northern California, a region of more than 6 million people. Its specialists provide compassionate, comprehensive care for more than 100,000 adults and children every year and access to more than 200 active clinical trials at any given time. Its innovative research program engages more than 240 scientists at UC Davis who work collaboratively to advance discovery of new tools to diagnose and treat cancer. Patients have access to leading-edge care, including immunotherapy and other targeted treatments. Its Office of Community Outreach and Engagement addresses disparities in cancer outcomes across diverse populations, and the cancer center provides comprehensive education and workforce development programs for the next generation of clinicians and scientists. For more information, visit cancer.ucdavis.edu.