93% of UC Davis Health employees vaccinated against COVID-19
New mandates effective at increasing already high vaccination rate, protecting patient health
(SACRAMENTO)
Ninety three percent of UC Davis Health employees are fully vaccinated against COVID-19, just a few weeks after a University of California mandate took effect. This layer of protection is critical as the highly contagious Delta variant spreads throughout the world. The surge has affected hospitals around the region, including UC Davis Medical Center.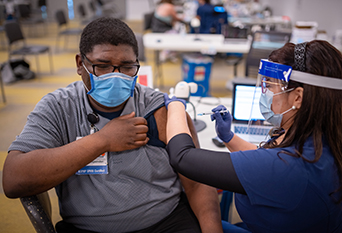 "There's no question this high-level vaccination rate will save the lives of employees, family members, patients and members of the community," said David Lubarsky, vice chancellor of human health sciences and CEO of UC Davis Health.
The COVID-19 vaccine is the best protection against the virus, which has killed more than 670,000 Americans, including over 2,000 in Sacramento County, and sickened hundreds of thousands more. The vaccine is effective at preventing severe disease, hospitalization and death. At UC Davis Health, the vast majority of hospitalized COVID patients are unvaccinated.
The importance of requiring the vaccine
In July, the University of California Office of the President issued a policy requiring all students, faculty and staff to be fully vaccinated, with few exceptions. Those who remain unvaccinated for medical or religious reasons must get tested regularly for coronavirus.
"There's no question this high-level vaccination rate will save the lives of employees, family members, patients and community members."
— David Lubarsky
UC Davis Health CEO
In August, the California Department of Public Health also issued a COVID-19 vaccine mandate for all health care workers at hospitals, skilled nursing and other health care facilities in the state.
UC Davis Health was the first system in the region to begin vaccinating its employees in mid-December 2020. At one point, the health system was running an employee vaccine clinic from 5 a.m. – 10 p.m. to accommodate the demand of administering up to 900 shots daily.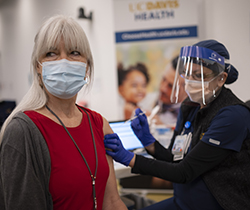 Vaccine dramatically reduces COVID-19 infection rates at UC Davis Medical Center

A recent retrospective study done by UC Davis Health found that COVID-19 infections among health care workers at UC Davis Medical Center were quickly reduced once vaccine distribution began last December. Coronavirus infection rates dropped from 3.2% during the eight weeks prior to vaccinations began to 0.04% two weeks after the second vaccine dose. The findings were consistent with the Phase 3 mRNA vaccine trials for the Pfizer and Moderna vaccines.

Read more about the vaccination study.
"The vast majority of our employees have been eager to get the vaccine," said Ann Tompkins, director of Employee Health Services. "As a result, we've had very high vaccine rates, even long before the mandate was put into place. That has meant fewer people out sick, increased safety for our patients and better morale."
Community responsibility
The COVID-19 case rate in Sacramento County is currently 23.8 per 100,000 residents. The vaccination rate in the county is about 54%, much lower than the statewide rate of 69%.
"Now we will continue to do everything possible to increase our local community's vaccination rate, so everyone can be as protected from COVID-19 as our employees," Lubarsky said. "We take our responsibility to care for our community seriously. We can only do that with healthy workers who are also doing their part to limit the spread of this virus. It's our hope that by getting vaccinated ourselves, we will be able to show others the vaccines are safe and an important part of protecting people from the pandemic."