UC Davis Medical Center successfully treats patients with coronavirus; hospital plans to expand on-site testing
Thanks to effective safety protocols and adequate supply levels, no personnel have tested positive for COVID-19
(SACRAMENTO)
Two weeks ago today, UC Davis Health made national news when we discovered our providers were treating the first apparent case of COVID-19 acquired by community spread of the disease. We have learned much about COVID-19 since then, and what we have learned is helping to inform how the nation is responding to this outbreak.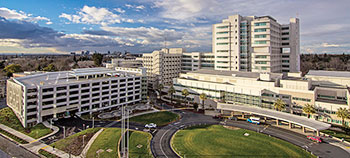 We have seen three COVID-19 patients during the past two weeks, and none of our providers has contracted the disease, which shows current levels of protection for patients and providers is working well.
For two of these COVID-19 patients, we provided some initial treatment, they improved quickly, and returned to their homes, in quarantine, to continue to recuperate. They are continuing to do well. The community-spread patient, who was in critical condition when transferred to us from another hospital, continues to improve.
What we have learned from studying these patients and our own employees is that COVID-19 appears to be a droplet-spread infectious disease. This is different than an airborne-transmissible disease, like measles, which is much more contagious and requires a higher level of protection for medical staff. Evidence gathered from multiple academic medical centers in the U.S., including here at UC Davis Health, supports the CDC's move from airborne precautions to droplet precautions.
The disease is spread similar to the cold or the flu, and the protections that public health has been emphasizing for several weeks continue to be the most effective way to protect yourself and your family. For context, more than 500 Californians have died from the flu since September of 2019 – that's almost 100 people per month, and this year's flu season is not over yet. For comparison, four people in California have died of COVID-19.
Our hospital is taking steps to greatly expand its testing capabilities on-site, with the goal of running tests inside our hospital within the next few weeks. We are doing this in full collaboration with Sacramento County Public Health and other public health agencies, in order to take pressure off other testing labs.
UC Davis Medical Center, the largest hospital in our region, remains open, meeting all of our patients' needs, with adequate levels of supplies, including N95 masks. It's important to note N95 masks must be personally fitted in order to provide proper protection, and these masks aren't the only way to protect a health care provider during a patient visit.
We are proud of our world-class health care providers for what they do every day, taking care of our region's most ill and vulnerable patients – regardless of what disease they may have. At UC Davis Medical Center, we are proud of the role we play in helping our nation find ways to best prevent and treat this new infectious disease.
Get the latest novel coronavirus information and resources from UC Davis Health