A cut above: EVS custodian loses his locks to support Burn Unit patient
On Dec. 4, senior custodian Rocky Mesa began his usual 2:30 to 11 p.m. shift at UC Davis Medical Center with a full head of hair and a full beard. By the time his lunch break rolled around, he was totally bald.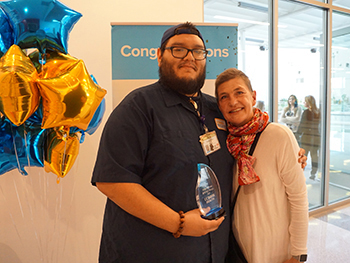 And he went completely clean-shaven all because of a patient.
As he was taking out the trash in Anci Titus' room on the Burn Unit, Mesa heard her worries about an upcoming skin graft on her face. Titus was especially upset about needing to shave her head for the surgery, and "she expressed she wasn't quite ready to part with her hair," in Mesa's words.
The custodian, who had been growing his shoulder-length hair for four years, empathized with her.
"I thought about it for maybe 10 seconds, and then I was like, 'You know what? I'm not ready for it either, but I'm willing to go first,'" said Mesa.
Titus, taken aback by this offer from a stranger, said that he didn't have to do that.
But Mesa had made up his mind. "I told her: 'It's tough having to go through things alone, so I figured we could do it together.'"
A couple of hours later, Mesa returned to the burn unit and, sitting next to the patient, had his head and facial hair shaved.
"She was like, 'Oh my God, I can't believe he's actually doing this' – because we didn't know each other," Mesa recalled. "But she did tell me it was one of the sweetest things anyone has done in the hospital."
Jennifer Kennedy, an occupational therapist-burn specialist, and her colleagues on the Burn Unit would agree. They know that burn injuries are difficult to overcome and that patients often have to undergo many surgeries before they can leave the hospital.
"Rocky's seemingly simple act demonstrated his compassion and solidarity for a patient who was feeling overwhelmed and scared about an upcoming surgery," Kennedy said. "The patient said she felt very supported and cared for – and was able to face surgery with renewed courage."
Although Kennedy calls him a "special person who did something amazing," Mesa said he is merely doing his part to care for patients. Helping people is the aspect of his job he enjoys most, and he takes pride in protecting the community by cleaning and sanitizing patient rooms, public areas and high-touch surfaces throughout the medical center.
"Patient care is an aspect of my job," said Mesa, who has been an Environmental Services employee for two years. "That's one of the reasons I took this job – because I care."
But on that fateful day for his follicles, it was his bald head that required some extra care. When he left work late that chilly night, he had to put his hands over his head to keep warm. With the onset of winter, the lack of rooftop insulation – so to speak – was a problem.
"And I'm the guy who never has to turn on the heater," Mesa said with a laugh, before expressing gratitude to the nurse who gifted him a much-needed beanie.
As for Titus, Mesa said that they still keep in touch – exchanging "progress photos" as their hair grows back. They were reunited on Feb. 25, when Mesa was presented with a Point of Pride Award by UC Davis Health leadership during a ceremony attended by Mesa's colleagues and other hospital staff.
"Sometimes, something rises above the routine," said UC Davis Health CEO David Lubarsky. "Hopefully this isn't a one in a million thing, but it's pretty close."
Titus, however, said that Mesa's generosity of spirit was evident in all his actions and interactions, not just in a single gesture.
"He was always a sweet and kind soul every day when he came to my room," she explained.
Mesa said he simply looks to help others because he knows that, one day, he too might need the help of a stranger.
"I feel like doing one act of kindness would inspire more people," he said. "I may be just one person, but, say, 600 people did one act of kindness – that's 600 acts of kindness."