A teacher's learning experience with stroke
Quick response saves his life. Unique treatment helps him thrive.
(SACRAMENTO)
Peter Dwyer's birthday this year was extra special — because it may not have happened at all. Last September, the retired high school teacher was raking leaves when his left side suddenly buckled.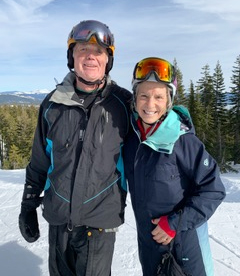 Lying on the ground partially paralyzed, confused and unable to use his phone, he yelled "Help!" every thirty seconds. After about fifteen minutes, his neighbor heard his shouts, followed the sound to the back of his property and found him wedged up against an oak tree. She called 911 for an ambulance.
His nearby community hospital in Placerville did some initial assessments, administered a clot-dissolving medication called alteplase, then rushed him to UC Davis Medical Center and its Comprehensive Stroke Center.
Dwyer had experienced an acute ischemic stroke, caused by a blockage in a vessel that supplies blood to his brain. Given the size and location of the blockage — the right middle cerebral artery — Dwyer's medical team opted for a treatment known as a thrombectomy. The procedure involves using a catheter and special stent to trap and remove the blockage, restoring blood flow. He was released a day and a half later.
"Acute treatments for stroke are limited by time from symptom onset. Peter is lucky he got help so quickly," said Kwan Ng, Dwyer's UC Davis physician. Ng is director of vascular neurology and the Comprehensive Stroke Center at UC Davis Health.
"We think about stroke in increments of time — with every 15 minutes that can be shaved off the response time, there's a decrease in morbidity and mortality," Ng said. "It's important to be aware of the symptoms and to get help right away if one or more of them is happening to you."
Dwyer still gets an eerie feeling on the hillside where his stroke occurred, and he now takes medications to reduce the risks of another one. Otherwise, he has no long-term effects. He has returned to his active life of road biking, mountain biking, snowboarding and fly fishing. He celebrated the 70th birthday he may not have had. He and his wife, Gale, also welcomed three grandsons into their family, which already included four granddaughters.
"It's phenomenal to think that age 69 could have been the end of it," Dwyer said.
His advice?
"Don't explain away your symptoms," Dwyer said. "If something feels even just a little strange, get answers. Rationalizing is easy to do. Don't do it."
---
Related stories and resources
UC Davis Medical Center achieves top stroke certification
Stroke can strike at any age
Pediatric patient recovers from stroke
Stroke symptoms from the American Stroke Association