After scary diabetic ketoacidosis, 11-year-old patient and family give thanks
(SACRAMENTO)
When 11-year-old Kristin Javier started experiencing recurring vomiting one night, her worried family brought her to Mercy San Juan's Emergency Department, searching for answers.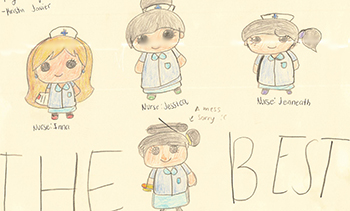 Javier was diagnosed with diabetic ketoacidosis (DKA), a life-threatening condition that occurs when your body is low on insulin and produces high levels of blood acids called ketones. If left untreated, DKA can lead to a diabetic coma and even death.
Javier needed a higher level of hospital care. Mercy San Juan doctors transferred her to UC Davis Children's Hospital's Pediatric Intensive Care Unit (PICU).
"Our hospital experience at UC Davis Children's Hospital was really great. Nurse Jenn Martinson in the PICU worked so admirably, giving care and comfort to my sick daughter. And the doctors took such great care of her," said Kate Megia, Kristin's mother.
Megia was also grateful for the care offered to her, too. Nurses answered her questions and gave her pillows, sheets and blankets so she could be comfortable at her daughter's bedside. Every patient room in the PICU is private and includes a sleeping sofa to make the experience easier on families and to enhance family-centered care.
Megia said she and Kristin appreciated how the hospital staff gave them so much information about Kristin's condition. The pediatric dietitians taught Kristin and her family how to control low and high blood sugar levels and navigate a new gluten-free and diabetic diet to help her manage her Type 1 diabetes.
"I was also impressed that the dietitian let Kristin choose the foods that she could eat, and even reached out to the hospital food service to give her a gluten-free menu to select from," Megia said.
When Javier was discharged after three days and returned home, she sent a personal thank you note to her care team with drawings of her four favorite nurses– Jenn Martinson, Inna Plugovaya, Jessica Langford and Jeannette DeDios – emblazoned with the words, "The Best."