Burn center team braces for wildfire season
Experts are ready to treat all patients who need them
(SACRAMENTO)
Valley. Rough. Atlas. Redwood Valley. Tubbs. Nuns. Carr. Mendocino Complex. Camp.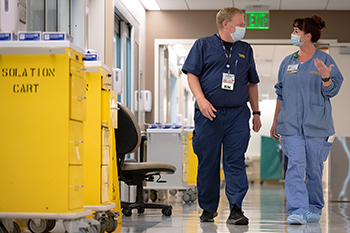 The names of Northern California's major wildfires over the past five years are reminders of how common they have become, and trigger fear that there could be another in 2020.
Preparing for that possibility is a central mission of the Firefighters Burn Institute Regional Burn Center at UC Davis Medical Center. The center's surgeons, nurses and rehabilitation specialists have been on the frontlines of treating patients injured by wildfires.
"We've been affected by so many big fire events in recent years that we have to assume another one is coming," said Len Sterling, nurse manager of the burn center.
Sterling monitors fire and weather trends in northern California and northwestern Nevada. He and his team regularly practice their plan for responding to large-scale fires with multiple victims. He also collaborates with burn centers throughout the western U.S. They share updates on the availability of patient beds and transportation options, so they can help each other in times of major patient surges.
"We want to be nimble, flexible and treat all patients who need us," he said.
Defining quality burn care
The burn center was launched in 1974 following a multi-casualty accident that called attention to gaps in the region's burn care. Today, the center is one the nation's top programs for burn care, research and training.
The team can quickly leverage UC Davis Health resources in burn management, surgery, trauma and intensive care to treat a range of wildfire-related injuries. They also partner with Shriners Hospitals for Children – Northern California in caring for the unique needs of children injured by fire.
Their mission and reputation have greatly expanded over the past four decades.
"We are now known nationally — and internationally — for burn care and research," said surgeon and center director Tina Palmieri. "We have progressed from delivering quality burn care to being leaders in defining quality burn care."
Their studies have helped specialists identify infections in burn patients more quickly, determine the best use of blood transfusions and albumin in burn care, and improve functional and aesthetic outcomes after burns. Palmieri is currently leading a study of a synthetic graft that could improve the body's ability to heal after burns and improve scars.
Did you know?
The burn center began
in response to a community tragedy
, when a plane crashed into an ice cream parlor and highlighted the need for specialized burn care in the region.
The center is unique in its partnership and funding from fire fighters. The
Firefighters Burn Institute
also is a key partner in educating the public about fire safety and response.
In addition to burns, the team treats conditions unrelated to heat but that cause skin blistering and peeling, including frostbite, chemical burns, large scrapes and diseases like
Stevens-Johnson syndrome.
Two of the center's surgeons – Tina Palmieri and David Greenhalgh – have served as president of the
American Burn Association
and Greenhalgh is president-elect for the
International Society of Burn Injuries
, demonstrating their worldwide leadership and reputation in burn care.
They also have written and edited national or international guidelines for optimal burn care, infection criteria in burns and burn disaster triage.
Preparing for patient surges
Being prepared for and focused on the needs of burn patients is not just a mission, it's a clear responsibility for the only burn center in a vast area. The next nearest centers are in the Bay Area, Fresno, Las Vegas, Salt Lake City and Portland. It also is crucial in a state with an ever-lengthening wildfire season. The latest California climate change assessment predicts that by 2100, if greenhouse gas emission levels do not change, extreme wildfires will increase in frequency with the average area burned statewide growing by 77%.
This year is especially concerning because surges of COVID-19 and wildfire patients could potentially compete for hospital resources. The burn team has worked with hospital leadership on that possibility.
"We've done so much strategic planning that even if we had to take care of a surge of burn patients together with a surge of COVID-19 patients we could handle it," Sterling said. "We are better prepared than we ever have been."
Related stories and resources
Burn center honors its primary benefactor: Firefighters
UC Davis specialists see a big increase in cooking-related burns
Fireworks in the age of COVID-19: More dangers than ever
CAL FIRE incident map