Bus tour connects UC Davis Health with Central Valley communities, gains national recognition
Nursing and medical students deepen connection with the region
(SACRAMENTO)
California's Central Valley is home to 6.5 million people, provides half of the nation's food and more than 40% of its fruits, vegetables and nuts. Yet, those living in this 450-mile stretch of land down the middle of the state face the worst air quality in the country, diabetes rates above the national average and rampant food insecurity. That doesn't sit well with physician and School of Nursing Associate Clinical Professor Jann Murray-García.
"We think we have an idea of what this land rich in history and diversity is all about, but I sensed we, as current and future health providers, could have a better sense," Murray-García says. "If we're going to build a health care system that serves everyone as well as it can, we need to understand the social and public policy determinants of health for those we serve."
Murray-García's desire to deepen future health care professionals' understanding of the region and its people grew into a Highway 99 bus tour now known as the Interprofessional Central Valley Road Trip. Since 2017, five groups of students and faculty from the Betty Irene Moore School of Nursing at UC Davis and the UC Davis School of Medicine have made the overnight trip, which includes stops at community centers and health organizations, as well as historical sites. Faculty, staff, administrators from the Schools of Education, Law and Environmental Toxicology, as well as local community members have joined as well, enriching the dialogue and learning for everyone.
"Classroom on Wheels" shared at national conference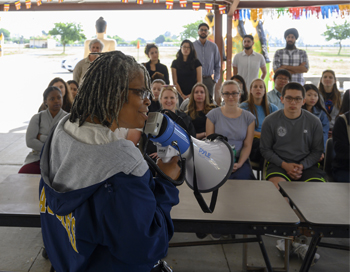 The program was shared with a national audience during a presentation this week by Murray-García and Victoria Ngo, a postdoctoral scholar at the School of Nursing, at the 2019 Institute for Healthcare Improvement (IHI) National Forum on Quality Improvement in Healthcare. The IHI, a recognized leader in assisting health systems to better serve patients and populations, included the project in a poster session as an exemplary health system innovation.
The Interprofessional Central Valley Road Trip, narrated in real time by Murray-García and Central Valley historian David Hosley, teaches social determinants of health, implicit bias, health inequities, population health and cultural humility.
"We know of no other opportunity at UC Davis or in the nation that establishes an interprofessional mobile classroom, where every traveler is a learner, including students, faculty, staff and community members," Murray-García adds. "Sojourners, as we call our participants, describe the experience as transformational and life-changing."
Sojourners experience these complex concepts through their own eyes, ears, taste buds and hearts and walk off the bus profoundly changed by the experience. In post-trip surveys, their average rating is 9.22 out of 10 when asked, "How useful was this trip to your professional practice?".
"When my husband and I got off the bus, we went to get a burger. I remember thinking about the tomatoes—if they came from the Central Valley and who picked them," recalls Trudee Murray, a 2018 alumna of the School of Nursing's master's-degree leadership program and UC Davis Health nurse. "After this experience, I no longer just see what's in front of me, but the whole picture of my patients."
Trips to date were possible thanks to subsidies from the School of Nursing and the UC Davis Health Office of Equity, Diversity and Inclusion. Murray-García and her team hope to offer this experience to every UC Davis Health student, resident, post-doctoral trainee, faculty member, administrator and staff member. She is currently developing a similar road trip through the region north of Sacramento.
About the Betty Irene Moore School of Nursing at UC Davis
The Betty Irene Moore School of Nursing at UC Davis transforms health care through interprofessional nursing education and research. Established in 2009 through a $100 million grant from the Gordon and Betty Moore Foundation, the school offers five graduate areas of study, including doctoral and master's-degree programs in nursing science and health-care leadership and master's-degree programs for pre-licensure nurses, family nurse practitioners and physician assistants, with a focus on preparing primary-care providers for rural and underserved communities. The Betty Irene Moore School of Nursing is part of UC Davis Health, an integrated, academic health system encompassing the UC Davis School of Medicine, UC Davis Medical Center and the UC Davis Medical Group. For more information, visit nursing.ucdavis.edu.