CA Quits honors FQHCs for tobacco cessation e-referral programs
(SACRAMENTO)
Two local Federally Qualified Health Centers (FQHCs) — Sacramento County Primary Care Center and One Community Health — were recently honored by the Sacramento County Tobacco Control Coalition for integrating e-referrals between their providers and the California Smokers' Helpline.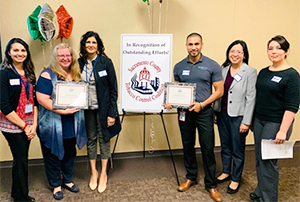 With assistance from CA Quits, the two health centers implemented the first e-referral program with the California Smokers' Helpline. CA Quits is funded by the California Tobacco Control Program to integrate tobacco cessation best practices in health care settings. It is based at UC Davis and led by general internal medicine physician Elisa Tong.
Tong participated in the recognition event, along with Moreen Sharma and Shannon Haggitt of CA Quits, Debbie Burow and physician Sumi Mishra of Sacramento County Primary Care Center, and Gustavo Trejo of One Community Health.
The e-referral project improved the capacities of over 100 clinics in California to link patients via electronic health records systems with the Helpline. Following each e-referral, tobacco users are contacted directly by the Helpline and offered services that double their chances of permanently quitting tobacco. Clinics participating in the project all utilize OCHIN — a nonprofit center that hosts electronic health record systems for over 100 California community health clinics.
Related stories
Automated quitline referrals help patients give up tobacco
CA Quits teams up with community clinics to address tobacco use
UC Davis led statewide tobacco cessation effort launched