Children's Miracle Network at UC Davis announces local 2020 champion
Isabella Lazzerini supports CMN's fundraising campaign at Walmart and Sam's Club stores
(SACRAMENTO)
Every year, Children's Miracle Network (CMN) Hospitals across the U.S. and Canada identify a "champion" in their local community to serve as the face for children treated at their local children's hospital. This year, 3-year-old Isabella Lazzerini of Clarksburg has been named CMN Champion, representing UC Davis Children's Hospital.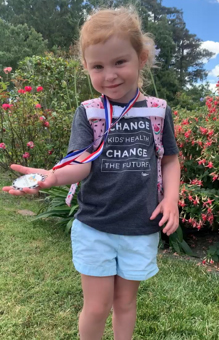 Isabella came to UC Davis Children's Hospital for heart surgery and had a feeding tube placed when she was just days old. She has many rare diagnoses, including a VACTERL Association diagnosis which affects one in 40,000 children, as well as Isolated Hemihypertrophy, which strikes one in 86,000 children and increases her risk of cancer. When Isabella was finally admitted to UC Davis Children's Hospital, the Lazzerinis felt immediately at home.
"We were in a whirlwind, but everyone who cared for Isabella took care of our family, too," said Robyn Lazzerini, Isabella's mother.
Robyn Lazzerini, her husband Guido and children, Jennifer, Jonathan and Luca are proud Isabella is the face of CMN. As ambassadors, the Lazzerinis have spent time advocating for the charitable needs of sick and injured children in UC Davis Children's Hospital's 33-county service area. Although COVID-19 has interrupted in-person visits, Isabella now appears on posters and flyers in local Walmart and Sam's Club stores for the annual CMN fundraising campaign.
"We are thrilled Isabella is this CMN year's champion," Robyn Lazzerini said. "We are so honored to have received care at UC Davis. They saved her life. It has become our goal to give back and we encourage you to do the same. Please donate so other kids have the chance Isabella had."
The CMN Walmart and Sam's Club campaign runs through July 19.
UC Davis Children's Hospital is the Sacramento region's only nationally ranked, comprehensive hospital providing care for infants, children, adolescents and young adults with primary, subspecialty and critical care. It includes the Central Valley's only pediatric emergency department and level I pediatric trauma center, which offers the highest level of care for its critically ill patients, as well as a level I children's surgery center. The 129-bed children's hospital includes the state-of-the-art 49-bed neonatal and 24-bed pediatric intensive care and pediatric cardiac intensive care units. For more information, visit children.ucdavis.edu.