Children's Miracle Network partner Costco will raise funds for UC Davis Children's Hospital in May
(SACRAMENTO)
Beginning May 1, Children's Miracle Network Hospitals' biggest partner in hope will once again give shoppers the opportunity to support children treated at UC Davis Children's Hospital. May is Miracle Month at Costco and despite the pandemic, the campaign is on track to run from May 1-31.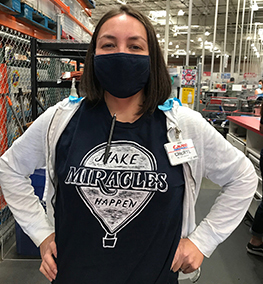 All month long, shoppers will be invited to donate at checkout. A total of 18 Costco locations from Redding to Tracy will raise money in support of UC Davis Children's Hospital. All funds raised locally stay local to support research, programs, equipment and clinical care.
Although employees will maintain a focus on safety - with face coverings, register plexiglass and no small miracle balloons - they are determined to engage with customers to help them understand that kids can't wait.
"We are so grateful to Costco and its employees for their enthusiasm and dedication to this campaign," said Michelle Tafoya, program director of Children's Miracle Network at UC Davis. "Despite the many challenges of the pandemic, the teams remain committed to changing kids' health and have found creative ways to share their enthusiasm and the mission of CMN at UC Davis with customers. The key is that these employees are in it for the kids. That's why they ask and will keep asking. Every dollar makes a difference."
Costco participates in this month-long fundraising campaign at all warehouses in the United States and Canada. The annual Miracle Balloon Campaign is the primary source of the fundraising effort made by Costco and its partnership with Children's Miracle Network Hospitals. Costco Wholesale has raised $464 million for Children's Miracle Network Hospitals in the U.S. and Canada since 1987. Currently, more than 600 Costco locations participate in this fundraising campaign for their local Children's Miracle Network Hospital.
UC Davis Children's Hospital is the Sacramento region's only nationally ranked, comprehensive hospital providing care for infants, children, adolescents and young adults with primary, subspecialty and critical care. It includes the Central Valley's only pediatric emergency department and level I pediatric trauma center, which offers the highest level of care for its critically ill patients, as well as a level I children's surgery center. The 129-bed children's hospital includes the state-of-the-art 49-bed neonatal and 24-bed pediatric intensive care and pediatric cardiac intensive care units. For more information, visit children.ucdavis.edu.