Community's generous response to COVID-19 galvanizes UC Davis Health, American Red Cross partnership
On the surface, the start and endpoints of the blood transfusion chain are quite simple – donor to patient. But the COVID-19 crisis has demonstrated how essential every link and organization in that chain truly is, according to Sarah Barnhard, medical director of Transfusion Services at UC Davis Health.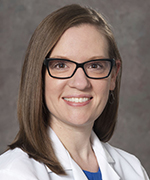 Following another successful blood drive this past Monday, June 22, Barnhard reflected on how the pandemic has taken UC Davis Health to a "new level" of partnership with the health system's blood supplier, the American Red Cross.
"Because of the generous spirit of UC Davis Health employees and affiliates we've been able to help stabilize the blood supply for our own patients and our greater community," she explained. "And because of the willingness of the American Red Cross to expand our communications and partnership, we've experienced minimal impact to our own population."
Including the 52 units of blood collected on Monday, physicians, nurses, staff and community members have donated a total of 636 units during 11 American Red Cross blood drives in partnership with UC Davis Health, dating back to last August. That generous spirit helps ensure there is enough supply on hand for the nearly 6,000 patients who receive blood transfusions each year across UC Davis Health.
And when there was genuine concern about a dip in donations in the earliest days of the pandemic, UC Davis Health community members answered the call.
"In challenging times, the Red Cross is fortunate to witness the best of humanity as people roll up a sleeve to help those in need," said Justin Mueller, Donor Services Executive for the Northern California Blood Services Region of the American Red Cross. "We greatly appreciate the generosity of UC Davis Health for hosting blood drives; the blood donations collected will help ensure a stable blood supply for trauma patients, those battling diseases and others throughout this pandemic."
Although the latest numbers indicate the crisis is far from over, Barnhard expressed optimism that the community will come through it even stronger.
"COVID-19 reminds us of something we already knew: we are all connected," she said. "The pandemic has made us more resilient and collectively resolved to protect our vital blood supply – and this has been evidenced by the incredible blood drive support over the past year."
Stay tuned to the Insider for details on the next Red Cross blood drive at UC Davis Health, scheduled for Friday, Aug. 21.