Coronavirus pandemic highlights gaps in support for caregivers
Family Caregiving Institute leader leans into passion to improve systems supporting older adults and their caregivers
(SACRAMENTO)
Caring for a family member demands patience, stamina and emotional fortitude. And with one in five U.S. households providing care for a family member, these often-unseen providers are far from being alone. In fact, 80% of Americans view caregiving as the new normal.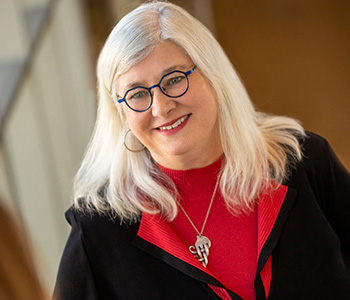 It's the new normal for Heather M. Young, with several older adults in her life depending on her. The dean emerita for the Betty Irene Moore School of Nursing at UC Davis and associate director for Strategic Partnerships at the Family Caregiving Institute is no stranger to caregiving realities. She's dedicated her career to improving the lives and well-being of older adults. But for her — and millions of others — the coronavirus pandemic brings the challenges to life.
"I feel like I have some knowledge and awareness of resources, but I'm still brought to my knees by issues we're dealing with," Young said. "I feel overwhelmed at times. It's humbling."
That feeling also motivates Young to lean into her life's passion for gerontological nursing and her work aimed at improving the systems meant to support older adults and their caregivers.
"I want action. I want improvement. I want to move the needle on the issues that are so important," she said.
As she watched the impact of COVID-19 unfold, she did what she always does: looked at things through a policy lens and weighed in with her expertise. As timing would have it, the pandemic hit while she served on the stakeholder advisory board for California's Master Plan for Aging.
"Whether it's a pandemic, a flood or a fire, tragedies highlight gaps in the system and sources of systemic racism and inequity," Young said. "As stakeholders and advocates for older adults, we used our knowledge to develop the plan."
Young, along with fellow Family Caregiving Institute researcher Janice Bell, was working with 11 California Caregiver Resource Centers around the state to understand service characteristics, usage and the impact of these services on the lives and health of family caregivers and those they support.
"We learned quickly that the services they relied on, such as respite and adult day care, closed down. Many caregivers lost their jobs. Parents moved in with caregivers and these family caregivers couldn't access the resources they needed," she said.
Young shone a national spotlight on the issues when she published an editorial for the Journal of Gerontological Nursing. It highlighted the unique needs for caregivers of frail older adults with chronic disease and called for creative solutions. And family caregiving work that she and the School of Nursing have partnered with AARP on since 2015 came full circle.
Their 2019 report, Home Alone Revisited: Family Caregivers Providing Complex Care, which Young co-authored will colleagues from AARP's Public Policy Institute, spotlighted caregiving challenges. Young served on an AARP team that hosted a series of roundtable discussions with family caregivers from diverse racial, ethnic and cultural backgrounds, seeking their perspectives on the real meaning of the findings and identifying areas of focus for community intervention.
"Research isn't in a vacuum," Young said. "You must bring it back to the people it pertains to and get their take. Then we bring that to service providers and policymakers. It really matters when the research changes practice."
Young says the work at the Family Caregiving Institute matters even more now. Since its first international summit in 2018, institute faculty researchers have built capacity to act. The team has also built relationships to propel their work forward.
"We are so connected now with others interested in this work. We have a much better sense of what colleagues across the globe are doing around caregiving," Young explained. "It's a relatively small world of people doing this work. Connection is such an important piece."
Young continues to make new connections and strengthen existing partnerships. The Caregiver Advise, Record, Enable (CARE) Act, whose rapid adoption can be traced back to a 2012 landmark AARP study, is now the law in 40 states and three territories. It supports caregivers as their family members go into the hospital and as they transition home. The pandemic identified gaps in how hospitals define caregivers in times of crisis. She and her AARP partners are now working to inform best practices around this.
For now, Young makes the most of the hours in her day she can dedicate to work. All the while, wondering how many families, like hers, face huge challenges and feel ill- prepared.
"It really brings home to me how everything is connected. If the most marginalized people of our society are not well, no one is well," Young said. "We've got a lot of work to do."