COVID-19 vaccine anxiety adds to stress on family caregivers
Because they aren't considered "essential," caregivers may be neglected by some health systems
(SACRAMENTO)
Terri Harvath's sister lives in Minnesota and spends a good deal of time looking after their 89 year-old-mother nearby. Recently, she managed to get their mom a vaccine appointment.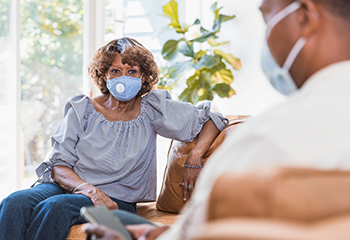 "My sister was on hold for 4½ hours," said Harvath. "By sheer fortitude and the ability to recharge her phone she was able to get our mother a vaccine."
Harvath has been seeing similar stressful stories throughout Northern California and across the country. She is the director of the Family Caregiving Institute at the Betty Irene Moore School of Nursing at UC Davis Health.
Family caregivers are among the quiet heroes of the COVID-19 pandemic. They look after sick or older loved ones, sometimes in isolation, often battling health care systems and insurance demands, usually without recognition as people essential to health care.
Now, add in new anxiety-laden responsibilities: All the difficulties of scrambling to get vaccines for their older or sick family members, then managing to get them there – sometimes when the caregivers are not eligible to get a shot themselves.
"They've had no break for a year, and now they're dealing with vaccines," Harvath said. "Many family caregivers have had very little help because they're trying to reduce the possibility of exposure to COVID-19. To them, this feels like piling on."
Plus, Harvath said, many caregivers have the constant fear that they could bring in the coronavirus themselves.
"They know COVID-19 could be fatal for the people they care for," she said. "They're the one who is supposed to be protecting their family members but they could end up being the one who harms them. That's a lot to carry around."
Unrecognized essential workers
"In my mind, they are frontline health care workers," Harvath said. "They are the most crucial people to the health of their family members. UC Davis Health is one of the rare health systems that treats them as essential."
"They've had no break for a year, and now they're dealing with vaccines … To them, this feels like piling on."
— Terri Harvath
Harvath is pushing for family caregivers to be classified as essential workers. That would allow them to get vaccinations – both easing that constant fear and helping ensure their sick or older person will have someone around to care for them.
"They have to manage health system that doesn't see family caregivers as important, even though they are handling so much of the care," Harvath said. "During the pandemic, they're told to stay outside if their family member goes into the hospital or even visits their doctor. But that often means the older person loses their advocate."
At UC Davis Health, family caregivers are allowed to accompany patients into the hospital and the health system is vaccinating caregivers who bring in their eligible family member. But that is uncommon.
"We are unusual," Harvath said. "We're working to make it better for all family caregivers."
Because of all they're managing, many family caregivers put their own health, especially their emotional health, last. That's why Harvath gives this advice as often as possible:
"Caregivers need to put on their own oxygen masks first," she said. "They need to take care of themselves or they won't be around to help their families."
Guidance and tips for family caregivers navigating COVID-19
How to approach vaccines
"It's always important to ask if you can be vaccinated, too, when you're bringing in your family member," Harvath said. "You may not realize that they are vaccinating care givers."
"In my mind, they are frontline health care workers. They are the most crucial people to the health of their family members."
— Terri Harvath
Be sure your family member understands that side effects are normal. The most common are body aches, a slight fever, headaches and fatigue.

"Tell them these mean their immune systems are working," she said. "And if they're getting a two-dose vaccine, let them know they may have a larger reaction after the second dose. That's when their immune system really kicks into gear."
Read more about how vaccines work and vaccine side effects
How to cope
"Even if it's just a few minutes, do something good for yourself," Harvath said. "Put your feet up, listen to music you love, watch something you like. I know that's hard to do when you're feeling overwhelmed, but it's worth trying."
Find a mindfulness app you like – they're easy to find with a quick search. "Mindfulness has been shown to be so effective for so many people in these and other stressful situations. It could be something as simple as focusing on taking a couple of deep breaths, so for a few minutes your mind is not racing around with all your anxieties and worries."
Give yourself small treats, and focus on enjoying them. "Try eating a piece of chocolate mindfully," she said. "Focus on the taste, the feel of the chocolate in your mouth, how it lingers there."
Don't let yourself get isolated. "Stay in touch with friends. Schedule Zoom calls to talk with a few at once," Harvath said. "But it doesn't have to be structured. Just text someone to be sure you don't feel alone in everything you have to do."
Help your family member keep their social connections, too. "Sometimes they'll need help with technology," she said. "It will help both of you if they feel connected."
"Unfortunately, the health care system doesn't provide a lot of relief for family caregivers," Harvath said. "We're working to make that better. But for now, that's why you have to be sure to take care of yourself. Your family member needs you to be healthy, and you need you to be healthy, too."
Related stories:
Vaccine Anxiety: Tips for handling the latest COVID fatigue
Another toll of COVID-19: Lost casual friendships and their uplifting value
Caring for your mental health in 2021: 10 tips
Coronavirus pandemic highlights gaps in support for caregivers
COVID-19 is wrecking our sleep with coronasomnia – tips to fight back