COVID-19 vaccine information for UC Davis Health patients announced
Patient vaccinations begin January 12
(SACRAMENTO)
UC Davis Health began notifying its patients today about vaccinations for COVID-19. In order to speed up completion of the U.S Centers for Disease Control and Prevention's (CDC) Phase 1a COVID-19 vaccinations and move to Phase 1b, where patients can be vaccinated, UC Davis Health is starting to vaccinate other Phase 1a groups in Sacramento.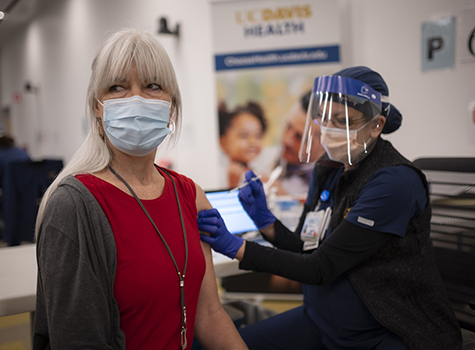 UC Davis Health will start vaccinating patients for COVID-19 on Jan. 12.
To do this, UC Davis Health is partnering with public health agencies to focus on three populations:
Sierra Sacramento Valley Medical Society members who are practicing physicians, working with or in Sacramento County, and who aren't affiliated with other health systems;
Dentists in Sacramento County, as determined by Sacramento County and the California Dental Association;
UC Davis Health patients who are health care workers and not affiliated with other health systems.
It is anticipated that vaccinations for at-risk patients in Phase 1b could start within one or two weeks, with COVID-19 vaccines available to most healthy patients sometime this spring.
Learn more about the COVID-19 vaccine from UC Davis Health
When can I get a COVID-19 vaccine?
Get answers to your questions and learn more about COVID-19 vaccines
In these early stages of COVID-19 vaccine distribution, priorities for patient vaccinations are set by federal and state authorities: the CDC and the California Department of Public Health (CDPH). UC Davis Health receives COVID-19 vaccines from CDPH and will begin vaccinating patients as soon as additional supplies arrive and approval is received to proceed to additional groups, including patients.
"UC Davis Health is eager to begin vaccinating our patients," said David Lubarsky, CEO of UC Davis Health. "We have a highly skilled team that's already vaccinated more than 10,000 of our health care workers and students. Being able to now provide vaccinations to our patients is critical to reducing virus spread, beating the patient surge, and bringing an end to the pandemic."
Using a tiered approach to prioritize COVID-19 vaccinations
To strategically manage the COVID-19 vaccination process, UC Davis Health has developed a tiered approach. Just as health care workers were prioritized during the initial rollout of vaccines because of their risk for COVID-19 exposure, individuals who are more vulnerable – because of age or a chronic health condition that places them at-risk – will be among the first patients to be vaccinated.
At UC Davis Health, priority for COVID-19 vaccinations will go first to those UC Davis Health patients who are 75 years and older. The next group, as vaccine supplies and arrival dates are firmed up, will include patients 65 years and older, those with heart disorders, sickle cell disease, diabetes, cystic fibrosis, cancer, stroke and other conditions.
For patients with most forms of cancer, the timing for their vaccination will be guided by their oncologist. Additional groups in line for the COVID-19 vaccines include patients under the age of 64 years.
10,000 UC Davis Health employees vaccinated
UC Davis Health has been working quickly to vaccinate its health care workforce, since that step must be completed before patient vaccinations can begin. Since receiving the first doses of COVID-19 vaccine in Sacramento on December 15, UC Davis Health has vaccinated more than 10,000 employees, with no reports of any serious side effects or reactions. With this work now nearly complete, UC Davis Health is ready to start vaccinating patients as soon as COVID-19 vaccine supplies allow, and permissions are given to move to Phase 1b groups.
Patients who already receive their care at UC Davis Health will be among the first to be notified in each patient group, since their health and contact information is already in the system's electronic medical record.
Advancing COVID-19 vaccinations in the community
UC Davis Health is also working to help others in the community get vaccinated, including first responders, nursing home residents and employees, non-affiliated community health providers, and other essential workers. UC Davis Health has offered to assist Sacramento County Public Health with vaccinations of community health providers and others at risk. Caretakers of very high-risk UC Davis Health patients may also meet the criteria for vaccinations at the health system.
As more COVID-19 vaccines are delivered to UC Davis Health, patients will be notified that they can self-schedule an appointment through the MyUCDavisHealth app or website, or by calling their provider's office. Vaccinations for patients will be by appointment only, and only for patients who are notified they are eligible.
Patient tiers for COVID-19 vaccinations
Phase 1b
Phase 1c
65-74 years
Chronic kidney disease (3 or greater)
Chronic obstructive pulmonary disease (COPD)
Heart disorders (heart failure, cardiomyopathy, Coronary artery disease)
Immunocompromised state (due to medication or underlying disease)
Body Mass Index (BMI; 35 or greater)
Sickle cell disease
Smoker, active daily
Diabetes type 1 and 2
Cystic fibrosis
Pulmonary fibrosis
Pregnancy
Stroke
Cancer (excluding history of cancer and non-melanoma skin cancers) timing of vaccine to be directed by treating cancer specialist.
Phase 1c(2)
50-64 years (CDPH guideline 1/4/2021)
Patients from communities with disproportional disease impact will be considered for prioritization within these groups. Patients who receive primary care at UC Davis Health will also be prioritized.
Exceptions to tiers (patients will not be actively reached out to, but may be vaccinated):
UC Davis Health patients who are health care workers who cannot be vaccinated by their employer or local public health departments
Caretakers of very high-risk UC Davis Health patients
Guidance for COVID-19 vaccination priorities
UC Davis Health established its tiered priority system for patient vaccinations based on the following guidelines and recommendations:
Related COVID-19 vaccine stories from UC Davis Health: