COVID closures disproportionately affecting those with disabilities
UC Davis MIND Institute encourages families to seek safe, in-person care and diagnoses as needed
(SACRAMENTO)
COVID-19 has brought hardships for most of us: job losses, sickness, grief, loneliness and more. But for those with intellectual and developmental disabilities, the distress of the pandemic has been acute.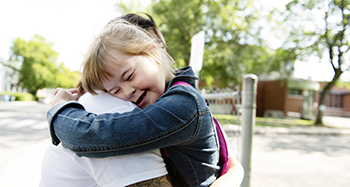 "The big concern is that many individuals with intellectual disabilities rely heavily on other people to support them in their daily activities," said Leonard Abbeduto, director of the UC Davis MIND Institute and the Intellectual and Developmental Disabilities Research Center (IDDRC).
"They often need people to help them get from place to place, or they'll have a job coach that assists them or an aide in school who's supporting them. When all of that is taken away, their world is even more isolated."
Abbeduto, along with his counterparts at the other IDDRCs in the U.S., co-authored a letter to the American Journal of Psychiatry, arguing that "few are more adversely affected by COVID-19 than individuals with intellectual and developmental disabilities."
The authors also mention their concern about future budget cuts to services on the local, state and federal levels due to the financial impacts of the pandemic, and the high incidence of other health challenges.
"We know there are high rates of obesity in people with intellectual and developmental disabilities and we know that they may have compromised immune systems, so they really are at a great risk," noted Abbeduto.
Distance learning and online classes haven't been an easy transition, either. "They have challenges learning, so it's difficult to adapt quickly to the new learning model. Plus, they may need help to sit down at a computer and access the lessons," Abbeduto pointed out.
Telehealth: A great option, but not always enough
Telehealth, or care delivered virtually, has been incredibly successful in many areas. In fact, the MIND Institute was offering telehealth care before the pandemic for families with limited transportation options, and was able to expand it to adapt to COVID-19.
Most initial patient consultations are done virtually now. And telehealth cognitive behavioral therapy for anxiety disorders has been very successful, as well.
"We have found some sorts of interventions that people think may even work better," said Abbeduto.
One key thing that can't always be done virtually is an assessment for autism.
"The main instrument for assessing autism requires basically in-person interactions," said Abbeduto. "To make it even more challenging, wearing a mask can change things. You're trying to asses a child's ability to pick up on social cues and masks can sometimes hinder that."
Visiting the UC Davis MIND Institute during COVID Restrictions
Nonetheless, MIND Institute clinicians can confidently make decisions about the appropriateness of an autism diagnosis in most in-person visits. There are only a few cases where children will need to come in again after the COVID-19 threat has passed to get a full, mask-free assessment.
Safe care at the MIND Institute
There are a number of circumstances where an in-person, masked and distanced visit can be more effective than a telehealth encounter.
"I think for some of the treatments, they really do require demonstrating things to parents while they're there, if they're going to help with interventions," said Abbeduto. "You need real-time, in-person coaching so they can see something physically being demonstrated," said Abbeduto.
Medication evaluations and adjustments are also usually best in person.
Just like elsewhere at UC Davis Health, the MIND Institute has created a safe environment to care for its patients. All staff and visitors are screened at the door, including a temperature check, and masks are required at all times inside the building – for most patients and for all clinicians. Equipment is regularly and thoroughly cleaned, and social distancing is practiced.
Resources
The MIND Institute has made resources available to all patients, especially those who can't come in person. One example is the Help is in Your Hands website, a great resource for families who have a child with autism. The free site includes web-based video modules to help parents add simple intervention practices to their everyday routines at home.
The Child Life Program has produced a variety of videos, including yoga classes, slime-making, story time and mask decorating for families to enjoy at home.
The MIND Institute is adapting, like all institutions, to a changed world, and faculty, staff and clinicians are also learning from the COVID-19 experience.
"I think there's a message here, that we need to try and have multiple paths for treatment and diagnosis," said Abbeduto. "Hopefully we won't have another pandemic, but it has highlighted how dependent we are on face-to-face interaction and how dependent people with disabilities are on others for support. We are preparing for the future and looking for ways to strengthen our system of care."
At the UC Davis MIND Institute, world-renowned scientists engage in collaborative, interdisciplinary research to find the causes of and develop treatments for the disabilities that can be associated with autism, attention-deficit/hyperactivity disorder (ADHD), fragile X syndrome, 22q11.2 deletion syndrome, Down syndrome and other neurodevelopmental disorders. For more information, visit mindinstitute.ucdavis.edu.