Davis campus departments donate PPE to UC Davis Health
(SACRAMENTO)
Davis campus departments and units are donating thousands of vital supplies to UC Davis Health in its effort to combat the spread of COVID-19.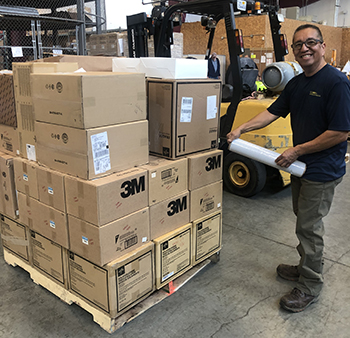 Two weeks ago, Tim Maguire, chief procurement officer on Davis campus, took responsibility as point person and it wasn't long before donations started coming in.
The College of Agricultural and Environmental Sciences was the first to step up, donating 2,400 face masks, 700 N95 respirators, 200 isolation gowns, 57,000 gloves and other items such as aprons, goggles and coveralls. Another large donation came from Emergency Management and Mission Continuity: 11,780 N95 masks, much of them left over from the smoke days of November 2018.
More than 30 departments in total across Davis campus have now donated the following items:
16 gallons of bleach
4 Clorox wipes
176 face shields
175,500 gloves
213 goggles
455 isolation gowns
2,930 N95 masks
5,860 surgical masks
"We are overwhelmed by the generosity and efforts of our campus colleagues," said Jita Buño, director of UC Davis Health Supply Chain. "The collaboration has strengthened the medical center's ability to continue caring for its patients. We are grateful!"
Davis campus is continuing to accept donations for needed items:
Face shields
N95 masks, surgical masks (Level 3 or above) and isolation masks
Gloves
Isolation or surgical gowns
Nonvented goggles
Clorox or Sani-Cloth wipes
Hand sanitizer
Davis campus departments interested in donating items can fill out this form to list the items being donated and then either request a pickup or drop them off at the Hopkins Services Complex, 615 Hopkins Road, to the west of Highway 113.
Distribution and Logistics is sorting all the donated goods and packaging them for delivery to UC Davis Health.
Donations are also being accepted at Central Receiving on the UC Davis Health campus between 8 a.m. and 2 p.m. weekdays. Learn more about how to help here.