Eighth annual Crush Challenge bike ride to accelerate cancer research on Aug. 27
(SACRAMENTO)
The eighth annual Crush Challenge bike ride is planned for Aug. 27, 2022, as part of a daylong series of events to raise money for UC Davis Comprehensive Cancer Center. The Crush Challenge starts with 25- and 37-mile bike rides through the beautiful Napa Valley. Registration is still open.
The deLeuze Family Charitable Foundation and ZD Wines are hosting the fundraising event along with the cancer center. In 2021, the event raised $117,000 to help advance research into nontoxic treatment for lymphoma.
History of Crush Challenge
Norman deLeuze, founder of ZD Wines, was the inspiration for Crush Challenge. Diagnosed with an aggressive cancer, the iconic Napa winemaker sought treatments beyond traditional radiation and chemotherapy with UC Davis oncologist Joseph Tuscano, who specializes in cancers of the blood.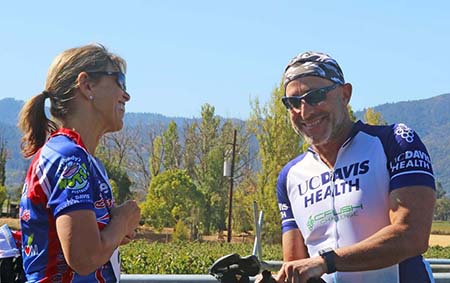 As ZD Wines President Brett deLeuze explains, "My father, Norman, was diagnosed with non-Hodgkin lymphoma. After the diagnosis, he went in search of nontoxic treatments. Along his journey, he met Dr. Tuscano. The relationship resulted in the establishment of the UC Davis deLeuze Family Endowed Professorship focused on researching nontoxic cures for cancer. Today, Crush Challenge continues to support that research and the UC Davis Comprehensive Cancer Center."
Tuscano, who researches alternatives to treating lymphoma, discovered a naturopathic remedy that shrank deLeuze's tumor and extended his life. Although deLeuze eventually died from his cancer, ZD Wines and the deLeuze family continue Norman's legacy through the establishment of the deLeuze Family Endowed Professorship and the annual Crush Challenge.
Top teams earn recognition
The ZD Wines cycling team Zero Defects was the top fundraising cycling team in 2021, with more than $25,000 in donations generated last year. But the 55-member UC Davis cycling team, co-captained by UC Davis Health CEO David Lubarsky, wasn't far behind with $16,554 raised.
"We've all been touched by cancer in some way, so it's great to team up with others who have similar experiences and train together, as we work to complete the Crush Challenge and raise money and awareness for the important research that may save the lives of future cancer patients," Lubarsky said.
Tuscano also cycles with the UC Davis team and is grateful for the growing interest in the Crush Challenge, which raises not only funding but also awareness regarding the critical importance of cancer research.
"I see the faces of the victims of lymphoma and other blood cancers daily. But I also carry with me the kindness of those whose faces I will never see and yet they support us in this challenge to 'crush cancer,' and I'm grateful because we cannot do it alone," Tuscano said.
Food and wine for all
Non-cyclists enjoy the after-ride fundraising events, supporting the Crush Challenge by buying tickets to a Barrel Tasting at ZD Wines in Rutherford and the lively, music-filled Food & Wine Garden event at the North Yountville Park. Tickets to this year's ZD Wine Dinner, held in the evening, have sold out. However, a waiting list is available.
UC Davis Comprehensive Cancer Center
UC Davis Comprehensive Cancer Center is the only National Cancer Institute-designated center serving the Central Valley and inland Northern California, a region of more than 6 million people. Its specialists provide compassionate, comprehensive care for more than 100,000 adults and children every year and access to more than 200 active clinical trials at any given time. Its innovative research program engages more than 240 scientists at UC Davis who work collaboratively to advance discovery of new tools to diagnose and treat cancer. Patients have access to leading-edge care, including immunotherapy and other targeted treatments. Its Office of Community Outreach and Engagement addresses disparities in cancer outcomes across diverse populations, and the cancer center provides comprehensive education and workforce development programs for the next generation of clinicians and scientists. For more information, visit cancer.ucdavis.edu.