Entravision Radiothon raises money for local kids beginning Thursday, Dec. 9
(SACRAMENTO)
Spanish language radio stations in the Entravision Network will dedicate 72 hours this week to raising money for local pediatric patients treated at UC Davis Children's Hospital. Stations La Suavecita - KXSE 104.3 FM, Fuego - KHHM 101.9 FM, La Tricolor - KRCX 99.9 FM and Jose Radio - KLYY 97.5 / 107.1 will kick off the Radiothon beginning Thursday, Dec. 9. The event will run through Saturday, Dec. 11.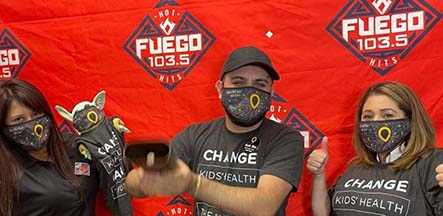 The Radiothon is a cooperative effort among Children's Miracle Network Hospitals (CMN) and Entravision, a 14-year fundraising partner of CMN. As the area's only CMN Hospital, UC Davis Children's Hospital will receive all funds raised locally, with the money raised supporting life-saving equipment, research, patient care and programs.
Tune in to Fuego - KHHM 101.9 FM and local DJ Hector Millan from 10 a.m. – 3p.m. daily for a live broadcast and to hear local stories of hope and healing. Like that of Jessenia Muro.
Muro is a pediatric cancer patient who recently completed treatment. She is one of several patients who will share their stories during the event.
"The local kids you'll meet are just incredible," said Charlie Albertalli, assistant director of CMN at UC Davis. "Their stories underscore the difference Radiothon donations make. We feel so fortunate to once again be partnering with Entravision and we can't wait to see how generous listeners are this year."
Entravision's goal is to raise $3 million across its radio stations around the country. Last year, $267,794 was raised locally for UC Davis Children's Hospital.
To give to the 2021 Entravision Radiothon, dial 916-734-9400 or visit the donation site.
UC Davis Children's Hospital is the Sacramento region's only nationally ranked, comprehensive hospital providing care for infants, children, adolescents and young adults with primary, subspecialty and critical care. It includes the Central Valley's only pediatric emergency department and level I pediatric trauma center, which offers the highest level of care for its critically ill patients, as well as a level I children's surgery center. The 129-bed children's hospital includes the state-of-the-art 49-bed neonatal and 24-bed pediatric intensive care and pediatric cardiac intensive care units. For more information, visit children.ucdavis.edu.