Environmental Services team keeps hospital clean and safe at all times
(SACRAMENTO)
It doesn't take long to understand the importance of the Department of Environmental Services (EVS) at UC Davis Health.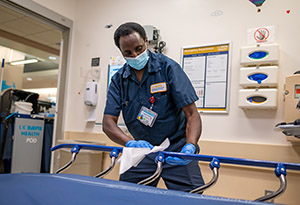 "We're part of the infection prevention team," said Kelley Sammarcelli, hospital director for the department. "We provide a clean and safe environment not only for patients and their families, but for our fellow employees, clinical care teams, visitors and students, too."
And now, with the COVID-19 pandemic touching every part of the community, the EVS team – the people who clean the hospital from top to bottom each day – has even more reason to be proud of their work.
"It's all about teamwork," Sammarcelli said. "Our work in the hospital and clinics and other UC Davis Health facilities supports the care of patients by maintaining a safe and clean environment at all times."
With UC Davis Medical Center and the health system ramping up scheduling, EVS is excited to see clinical activities and people continuing their care.
Infection control has always been a crucial part of the culture at every hospital. Environmental cleaning and disinfection are the key components of comprehensive cleaning plans.
"We're doing everything we've always done, but just more frequently now," Sammarcelli said. "It's being done more often to further ensure the highest quality of infection prevention at all times."
As always, every room in medical center gets cleaned at least once a day, even an operating room that hasn't been used. Many get cleaned more often and now with the pandemic, public areas such as entrances, waiting areas, corridors and rest rooms, plus the hospital's cafe, are getting even more frequent attention from the cleaning crews.
"The public areas are cleaned multiple times a day," Sammarcelli said. "They are just as important as a patient care area."
The department has nearly 350 full-time people on the front lines of maintaining a safe environment, plus 40 additional team members from the Davis campus, which was closed in March because of COVID-19. Add to that 80 per diem workers.
Every team member is also part of the overall patient experience at the hospital. When EVS workers go in to clean a patient's room, they try to strike up a brief conversation by saying "hello" and explaining what they are doing.
"We like to bring in a little sunshine wherever we go in the hospital," Sammarcelli said. "There's healing power in a simple smile and a friendly 'Good morning.' It can mean a lot to someone who's been confined to a hospital bed. It makes families more comfortable, too."
Of course, like everyone else these days, the stresses of the pandemic have also affected EVS workers, both at work and at home.
"Cleaning hospital and clinic rooms can be tough, physical work," Sammarcelli said. "And then at home, there are new stresses that no one has experienced before. Schools and child-care facilities are closed, and stay-at-home orders make it difficult to see loved ones."
She said she is proud of how the team has maintained their high level of service that has long been a constant for UC Davis Health.
"I'm very appreciative of our EVS team during these challenging times," Sammarcelli said. "They're balancing their family needs, while remaining dedicated to the health and safety needs of our patients, fellow employees and the entire community."