Executive Chef Santana Diaz to lead 2021 Tower Bridge Dinner
Visit Sacramento's annual fundraiser benefits Farm-to-Fork Festival
(SACRAMENTO)
Visit Sacramento has named UC Davis Health's executive chef, Santana Diaz, to lead this year's Tower Bridge Dinner. The annual fundraiser benefits Sacramento's renowned Farm-to-Fork Festival, an event that attracted more than 155,000 people in 2019. The dinner also funds scholarships for CAMP students at Sacramento State, who are the children of migrant farmworkers.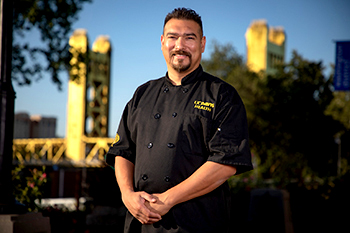 Diaz has led an innovative program for the health system that is changing the face of hospital food. He's prioritized local ingredients and sustainability, as well as providing diverse and delicious menu options for both patients and staff.
Diaz will lead an entirely local team of distinguished chefs at this year's dinner. The group was first selected in 2020, but the event had to be cancelled due to the pandemic.
The event was originally designed in 2013 to further establish Sacramento as a top culinary destination, and to provide the region's chefs and farmers with the opportunity to collaborate and share their talents with more than 800 diners in a single evening. Public ticket information for the 2021 dinner will be released July 15 at www.farmtofork.com.
"We're incredibly excited about the experience that will come from this year's lead chef team, especially after such a challenging year," said Visit Sacramento President & CEO Mike Testa. "And to have inspiration coming from Chef Diaz and the UC Davis Health team in a time when our health is such a top priority is especially poignant. I think this year's event will be one of the most unique that we've ever had."
New this year, table sponsors will be asked to join Visit Sacramento in prioritizing diversity, equity, and inclusion – including when selecting their Tower Bridge Dinner table guests. Beyond an exciting dining experience, the Tower Bridge Dinner has also become a springboard for partnerships and mentorships, and an opportunity to build upon Sacramento's diverse community.
Diaz is excited for the chance to increase awareness about UC Davis Health's focus on how good food equals good health.
"Our focus on good food can be summed up as a 'real' commitment to promote better health through food choices," said Diaz. "We're doing that as a health system, and it's our vision that it also can be done at an individual – and individual family – level, so that we all can enjoy better health."
"R.E.A.L" is an acronym Diaz uses to emphasize health system's vision for better health through better food and food choices. It stands for:
Responsible food procurement
Education
Active community engagement
Less waste
Diaz and his Food and Nutrition Services team are committed to obtaining sustainable food ingredients that are clean and locally grown or raised. They hope that menu items help increase awareness about, and demand for, healthy, nutritious foods. The unique effort also includes the recognition of regional economic benefits from buying locally produced foods. The final component – less food waste – places an emphasis on managing food resources in ways that are sustainable and protect the environment.
"It's such an honor to part of the Tower Bridge Dinner," said Diaz. "I'm proud to represent UC Davis Health and create a menu that will help show the community that good food is indeed good for our health, too."