"Fauci Effect" prompts nearly 40% increase in UC Davis medical school applications
The pandemic has inspired future doctors who look to role models battling COVID-19
(SACRAMENTO)
The number of students trying to get into the UC Davis School of Medicine has risen sharply this year – a 38% increase over the year before.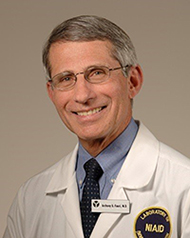 And it's not just UC Davis. Nationwide, medical school applications are up 18%, according to the Association of American Medical Colleges.
The reason? Like everything else these days, the pandemic has something to do with it.
Many people are calling it "The Fauci Effect," for Anthony Fauci, the well-known director of the National Institute of Allergy and Infectious Diseases, while others prefer "The Pandemic Effect." The fact is, there is a resurging interest in science and medicine because of the way the coronavirus has affected everyone's life.
A record-high 9,701 applications were submitted to UC Davis School of Medicine by the annual Dec. 1 deadline. Last year, the school received 7,023 applications.
"It's wonderful to see so many new applicants are responding to the call for help during this public health crisis," said Allison Brashear, dean of the School of Medicine. "They are rightfully looking up to leaders in medicine, science and research and setting their career goals based on the admirable work being done to relieve the world of this deadly pandemic."
Fauci has become a hero to many ­– including a UC Davis medical student who won a global essay contest for writing about the famed infectious diseases specialist.
Student Samantha Wong, in her second year of the five-year Academic Research Careers for Medical Doctors program, emphasized the need to find trusted leaders for guidance during the unprecedented times of COVID-19.
She stated that Fauci "represents a role of physicians and scientists that has diminished in recent years: a voice of reason, a representative of truth and facts."
Mark Henderson, the associate dean for admissions and outreach, agrees wholeheartedly with Wong.
"Dr. Fauci, of course, is an icon for physicians, scientists and other public health leaders because he's been such a voice of reason when there is so much recent noise and misinformation regarding science and medicine," Henderson said. "Physicians aspire to use science to advance the health of their patients, and I think Dr. Fauci's example has been extraordinary in terms of his clarity, grace, and unparalleled expertise."
Henderson, a longtime specialist in internal medicine, cites a second reason for this year's surge: When the national economy takes a downturn, he said, professional schools that educate future lawyers and doctors tend to see an increase in applications.
It is too early to know whether the surge in applicants applies to students from groups under-represented in medicine, or to those who come from disadvantaged backgrounds.
But for now, Henderson said, "it is strongly believed that many of these applicants have a keen interest in specialties such as infectious diseases or want to contribute to improving public health in the future."
And, because the School of Medicine draws a large number of applicants who want to be physicians for the underserved, it's a fair assumption that the pandemic – which has been more devastating to Latinos and Blacks in California than any other racial or ethnic groups – is on top of their minds.
"They want to be future doctors," said director of admissions Charlene Green, "but also future leaders in changing the way health care treats the most vulnerable populations."
The flood of applications has understandably created additional work for staff at the Office of Medical Education, which thoroughly reviews every single application as part of the school's holistic admissions process.
"We want to recognize and thank the entire School of Medicine admissions committee and those that serve as interviewers for all their time and hard work that they contribute to helping us build the next generation of exceptional physicians," Brashear said.
She also put out a call for faculty, residents, fellows and medical students interested in serving on the committee during the next application cycle.
The committee may need the help, especially if future doctors continue to find inspiration from the pandemic.