Heart-healthy meals can include dessert
With a few adjustments, you don't have to give up end-of-the meal treats
(SACRAMENTO)
Many people trying to live heart healthy think dessert is a no-no.
After all, "heart healthy" means few or no saturated fats and low in sodium, sugar and processed grains: none of which seems very dessert-like.
"Dessert can absolutely be part of a heart-healthy diet," said Marie Barone, dietitian with Health Management and Education at UC Davis Health. "You just need to make some adjustments to your traditional recipes or substitute new ones."
Dessert plays a big role in both the visual and physical sensations of having complete meal, especially on special occasions, according to Barone. That's why she doesn't typically suggest giving it up.
"We work with people to make healthy changes they can stick with," Barone said. "Asking someone to give up something they are used to at mealtime can actually reduce their chances of success."
One of her biggest tips? Less is more.
"Making use of what foods like fruit offer the palette without many more ingredients can be hugely satisfying," Barone said.
For a quick treat, she suggests freezing chunks of banana and then pureeing them in a blender for banana "ice cream." It has flavor and texture similar to a typical dessert, but with zero fat.
With more time to cook, she suggests recipes like the one served at the most recent Women's Heart Care Forum. Attendees enjoyed a special dessert created by UC Davis Health chefs Santana Diaz and James Ablett, with guidance from Barone, called Vegan Chocolate Cupcakes.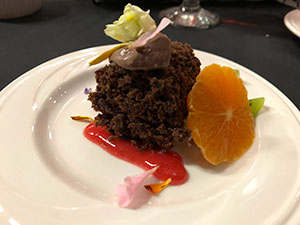 Some heart-healthy components of the recipe are antioxidant-rich fruit, grapeseed oil and cocoa powder, along with tofu, a plant-based protein.
While Barone primarily works with people who already have or are at risk for heart disease, she suggests heart-healthy living for everyone. Heart disease is, after all, the leading cause of death in the U.S.
"We should all put our heart health first with as many meals as possible," Barone said. "The more we do so the more it becomes just 'eating' rather than 'heart-healthy eating.'"
---
More heart-healthy recipes are available on the UC Davis Women's Cardiovascular Program website.
Information on managing and preventing chronic disease is on the UC Davis Health Management and Education website.
---