In times of crisis, remember to meditate
Simple breathing techniques can reduce stress and health symptoms
(SACRAMENTO)
Meditation is often thought of as a path to self-awareness. It also can be useful in reducing psychological distress in times like the current coronavirus crisis.
UC Davis cardiologist Uma Srivatsa has researched the benefits of meditation, including after natural disasters like earthquakes. She also is a long-term practitioner of meditation.
"High stress times increase stress hormones and cardiovascular disease symptoms," Srivatsa said. "Simple meditation techniques can reduce both."
Her research also has shown that meditation reduces arrhythmia and increases survival for patients with chronic heart failure.
"It's powerful medicine," she said. "Meditation should be a daily practice, especially in times of uncertainty and fear."
Online resources
Since most in-person meditation classes are canceled for now, we asked
Philippe Goldin
, a psychologist and faculty member in the
Betty Irene Moore School of Nursing at UC Davis
, for a few mobile and online resources. Like Srivatsa, Goldin regularly practices meditation.
Here is what he recommends: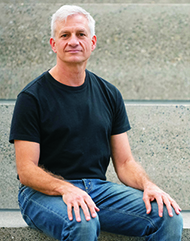 Insight Timer
(look for guided meditations by Tara Brach)
Stop, Breathe & Think
Simple Habit
Nature Meditation
Five steps to less stress
Srivatsa emphasizes that meditation is not difficult. She recommends starting with these five steps for five minutes:
Sit in a quiet place
Focus attention on your breathing
Count while taking a breath and hold it
Count while letting the air out
Continually bring attention (because it will try to wander) back to your breath
Do this daily at the same time to build comfort with the practice, Srivatsa said, then use it as much as necessary to refocus and cope. It will help now, and help you build resilience for future stressful times.
Read more about meditation and health
10 health benefits of meditation
Meditation: In depth (information from the National Institutes of Health)