Join the All of Us Research Program and be one in a million!
(SACRAMENTO)
All of Us is the million-person research program funded by the National Institutes of Health to understand how individual differences influence health and disease. The 10-year $1.4 billion landmark study gathers genetic, biological, environmental, health and lifestyle data from one million or more people living in the U.S.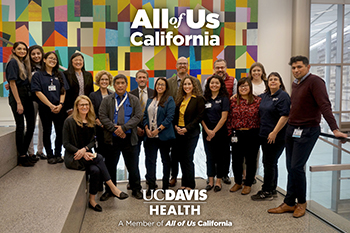 This unprecedented research effort, one of the largest in scale, is a major component of the federal Precision Medicine Initiative. UC Davis Health is one of six California health systems collaborating to implement All of Us. Since 2018, it has been enrolling participants locally, with over 6,290 participants to date.
"We at UC Davis are one of the national leaders in recruitment for the All of Us study," said Alexander D. Borowsky, professor of pathology and laboratory medicine and co-leader of the study at UC Davis Health.
Around 70% of participants at UC Davis Health are from underrepresented communities and more than 40% are from racial/ethnic minorities.
"Our diversity numbers are unprecedented for a program of this size. Our success reflects the deep commitment of the All of Us team throughout the state and our core value of inclusivity," Borowsky said.
Who is eligible to enroll in the All of Us program?
People of every race, ethnicity, sex, gender and sexual orientation participate in the All of Us program. Enrollment is open to all adults who live in the United States, except for those in prison or unable to give consent.
The program has no health limitations, as it welcomes healthy people and those with different kinds of health conditions. All needed appointments for participation are free, and no health insurance is required. Please keep in mind that All of Us is a research program and does not provide medical care.
How to enroll in the All of Us program?
"To enroll and participate is easy. All steps can be done online, except for donating a spit-kit or blood sample, which can be arranged here in Sacramento or in Davis," Borowsky said.
To learn more about the All of Us program, please visit the allofus.ucdavis.edu website, and to join click here. If you have any questions or concerns, please contact the UC Davis All of Us team at allofus@ucdavis.edu or 916-502-5605.
Researchers already using All of Us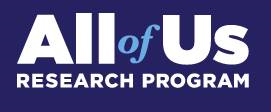 All of Us serves as a national research resource to inform thousands of studies covering a wide variety of health conditions. More than 600 research projects are underway!
The collected data go to the Researcher Workbench, a one-stop-shop for researchers who want to use All of Us data. Researchers can learn more about the Research Workbench and apply to request access to data.