'Just another member within the community': Officer Justin Williams, the humble hero
(SACRAMENTO)
When he was a kid, Officer Justin Williams was a "big comics fan," voraciously devouring comic books from both the Marvel and D.C. universes. But he had a particular favorite: Batman.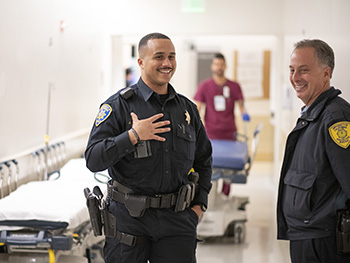 And not because of Batman's cape or costume, or his Batmobile, or his Batwing, or any other bat-related gadget or mode of transport.
It was because Batman most closely resembled a police officer.
"He was essentially a patrolman," Williams explained. "He doesn't necessarily have a super power per se, but he's highly trained; I always looked up to Batman because the things he was able to do were just as super – without having the supernatural ability that other superheroes had."
Not surprisingly, whenever Williams saw police officers around his hometown of Oceanside, Calif., he would stand in awe of the men and women in uniform – and dream of one day joining their ranks.
"I would just marvel at their appearance, everything they stood for, and how they conducted themselves in a professional manner," he recalled. "I always saw them as real-life superheroes; I would see them and think, 'Yeah, that's as close as it gets right there. And that's exactly what I want to be when I'm older.'"
After graduating from Sacramento Police Academy in December of last year, Williams became an officer in the Sacramento patrol division of the UC Davis Police Department.
"For me, it's like it still hasn't fully sunk in; it's a surreal moment," said Williams, who has been patrolling and serving the UC Davis Health campus since January. "It's something I just take so much pride in."
His job is especially meaningful because he's an Aggie alum, having graduated from UC Davis as a political science major in fall 2017. He was also the star running back on the football team his senior year, earning that starting spot after a series of devastating injuries to his foot and groin – and the subsequent grueling rehab stints.
"Justin is a tough guy who was a very good football player," said assistant head coach and running backs coach Mark Speckman. "He also has a servant's heart and a desire to help – these traits, I believe, make him an outstanding candidate to be a police officer."
Speckman said he was not surprised by Williams' success as a police officer, noting that his outgoing personality enabled him to interact with diverse populations at youth events, football camps, autograph sessions, and meet-and-greets with Aggie fans.
It's that unique opportunity to connect with the public that Williams likes most about his job on the Sacramento campus.
"My biggest thing is wanting to make myself a familiar face that people out here can relate to, so they realize that I'm just another member within the community," he explained.
He has especially enjoyed getting to know the medical students, while developing a deep appreciation for their long but fulfilling professional journey.
"I can relate to the hard work that's necessary in order to reach your goals and reach your dreams," Williams said. "It's neat to see a lot of these med students or medical professionals going forward within their career, working hand-in-hand with them as I start my own young career."
His own path, in recent years, has tracked alongside that of his colleague, Officer Rickardo (Ricky) Lee. Like Lee, Williams got a taste of a law enforcement career while working as an Aggie Host security officer (a program of the UC Davis Police Department), entered the Cadet program due to his outstanding performance and service, and was thus supported through police academy and hired to the UC Davis police force.
As a fellow student-employee during college, Lee admired how Williams was able to balance all the demands of school, work and community involvement.
"The ability to manage a full schedule as an athlete and full-time student, while balancing a work schedule, is an impressive commitment to representing UC Davis on and off the football field," Lee said.
Lee also noted that his colleague's team ethic and "great interpersonal skills" make him an exceptional police officer. During Williams' five months of field training at the Davis and Sacramento campuses, and throughout his career thus far, he has strived to follow the example of the officers he admired in his hometown – approaching law enforcement work with compassion.
"I always would just see them listening; they were patient," Williams said. "Every officer that I've witnessed, they would talk to people just like they were another person – human being-to-human being interaction. And so, for me, that's something that – in my early career – I've always wanted to emulate."
Williams' patience and empathy, it could be argued, stems from his upbringing in a big family. He has six siblings and 14 first cousins – all of whom grew up in Oceanside. As the second-oldest child, he was and still is conscious of setting a good example for the young ones.
Williams was the first in his family to graduate from college. He's also the first to become a police officer. A cousin, the second in the family to go to college, is in his freshman year and playing football at University of Redlands. That cousin and several other family members have said that they've been inspired to consider a career in law enforcement.
And for them, as for so many others in the community, Williams is the true superhero.