Keck Foundation grant will help scientists see small proteins
(SACRAMENTO)
A team of UC Davis Health scientists has been awarded a $1 million grant from the Keck Foundation to develop a tool for visualizing proteins that so far have been hard to study due to size.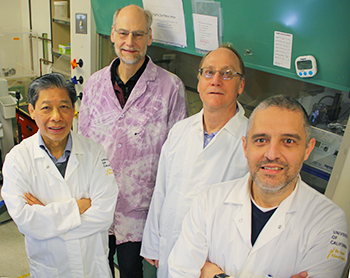 The tool involves using fluorescent-tagged peptides to bind and illuminate proteins of interest, even those smaller than 5 nanometers. Current options do not work well with proteins smaller than 20 nanometers.
In addition to eliminating problems of size, the new tool is not expected to alter proteins of interest or surrounding cells like current options do.
The team will test its effectiveness on proteins linked with AMPARs (AMPA-type glutamate receptors), which are responsible for signal transmission in the brain and implicated in Alzheimer's and other dementias.
The principal investigator is Johannes Hell, professor in the Department of Pharmacology at UC Davis Health. He studies cells of the brain and how they change with stroke, epilepsy, PTSD and other neurological conditions.
"Understanding proteins and their signaling complexes is critical to understanding and modifying their roles in disease," said Hell. "Our revolutionary technology will help define protein spatiotemporal distribution without the limitations and inaccuracies of current applications."
Additional members of the study team are Kit Lam, professor and chair of the Department of Biochemistry and Molecular Medicine; James Ames, professor in the Department of Chemistry; and Manuel Navedo, professor in the Department of Pharmacology.
More information about UC Davis Health is available online at health.ucdavis.edu.