Latino vaccination initiative boosted by UC Davis Health partnership
Mobile health clinic used for COVID-19 inoculation is donated by UC Davis Health
(SACRAMENTO)
A community partnership involving UC Davis Health is offering COVID-19 vaccines by appointment at the Consulate of Mexico in Sacramento.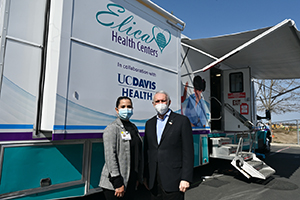 The clinic is open to anyone eligible under health guidelines to receive the vaccine, but organizers at a news conference Monday stressed the need for Latinos to get inoculated.
"Latinos, unfortunately and tragically enough, have been disproportionately represented in that they are 40 percent of the population of California, they have over 60 percent of COVID infections and close to 50 percent of deaths of COVID-19," said Mexican Consul General Liliana Ferrer.
"We want to make sure that this vaccination site represents equity and the incredible effort that the county of Sacramento and its health department is making here today," Ferrer added.
The vaccine clinic, in the consulate's parking lot, is made possible through community partnerships that include the Health Education Council and Elica Health Centers, a federally qualified health center.
Elica is well-known for its outreach initiatives – including a large mobile clinic that rolls areas across the region to serve hard-to-reach populations. The consulate building, located in Natomas, is a familiar location to many Latino immigrants in the Sacramento region, the vast majority of whom have roots in Mexico.
Aidé Long, Elica's director of community outreach services, emphasized the importance of partnerships to improve access to care.
"Our wonderful mobile unit was donated by UC Davis," Long said, "so as you can see, it is about working together in order for us to achieve more."
Sergio Aguilar-Gaxiola, director of the UC Davis Center for Reducing Health Disparities, thanked the consulate and Elica for their shared commitment to provide vaccinations as well as COVID-19 testing to Latinos.
Getting the COVID-19 vaccine can mean the difference between life and death, he said. "The data is very clear about who is mainly dying due to the coronavirus, and undoubtedly the Latino population, as Governor Newsom said this past Thursday, is the one that is dying in disproportionate numbers."
Aguilar-Gaxiola, who is also director of community engagement at the UC Davis Clinical and Translational Science Center, noted that the vaccination clinic is a helpful step that will bring positive results. "The vaccine is safe and effective, it's for the good of our families, friends, ourselves and our communities."
The vaccination clinic is open by appointment only, Monday through Friday, from 9 a.m. to 3 p.m. Those who are eligible can register at bit.ly/vaccinessac, or call 916-329-3502, or text the word "vacunas" to 833-510-7753.
Related story:
UC Davis to offer free COVID-19 testing for Central Valley farmworkers