Viewing season returns for Med Center's peregrine falcons
(SACRAMENTO)
Spring isn't quite here, but Bill Corbett is already excited about the upcoming season for watching UC Davis Medical Center's peregrine falcon family.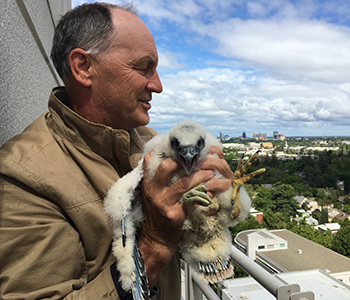 Visit and bookmark the livestream here for 24/7 peregrine fun.
Corbett is a long-time UC Davis Health employee. He also has a keen interest in peregrine falcons. Along with help from other bird experts, including those from the California Raptor Center at UC Davis, Corbett has monitored and helped nurture the peregrines that adopted a rooftop nesting area at the medical center nearly 10 years ago.
We recently caught up with Corbett for a preview of this year's highly anticipated peregrine season:
Q: What can viewers expect in terms of this season's timeline?
A. Right now, our peregrines are at the nest site and are doing typical courting ritual behaviors. We expect that eggs will be laid at the end of March and chicks will hatch around May 1.
Q: What was significant about last season, such as all those eggs and hatchlings?
A. Last year was very unusual in that we had five healthy chicks in our nest. Typically, three to four eggs are laid, and only two or three birds successfully hatch. The evolutionary theory behind our birds' high productivity is that when there are abundant food sources, more eggs get laid. The fact that we have experienced parents also factors into the bigger broods that they have produced.
Q: What's surprising or different compared to when you first started observing the peregrines here?
A. I have observed peregrines around our hospital for seven years, and they seek out high, off-the-ground structures for breeding. Our tall building is a natural location for them to select for a nest site. The location is protected from storms that come from the south, and it is shaded after 3 p.m. when the temperatures rise.
What is surprising to me is to witness first-hand how perilous the first year is for our hatchlings. I also never get tired of watching on the video stream, up close, how well the parents protect their brood in the first four weeks after hatching. It is truly amazing to see the parents feed the chicks and keep them warm when they are so fragile at birth.
Q: Why doesn't all the noise and helicopters send the falcons to another nesting location?
A. Peregrine falcons are becoming more and more common, and I believe their numbers are going up in California. There are at least five nest sites on tall buildings in the Bay Area. As long as humans don't interrupt the birds during the breeding season, the birds don't seem to mind our helicopters flying around. I think they basically are accustomed to them [the helicopters], since our birds are hanging around our hospital buildings year-round. Most peregrine falcons travel to other locations after the breeding season, but our birds are unusual in that they live here during the summer and fall.
Q: Anything else you'd like to add?
A. It is an emotional roller coaster watching our birds grow up and take their first flights and go out into the world and become independent. If our birds get an infection, like one bird did last year, there is a sad ending to their life. Fortunately, we have lots of UC Davis Health staff monitoring our birds when they take their first flights. We have literally saved the lives of three of our birds by returning them to the nest location when they got stranded on the ground and were not able fly well enough to get back to the nest.