Medical student takes a 'break' – and develops study aid app for histology, hematology and maybe more
(SACRAMENTO)
No matter the problem, challenge or endeavor, it seems there's an app for it. And if there's not… well, you can just make your own – as second-year UC Davis School of Medicine student Brandon Fennell did, during his very first month of med school.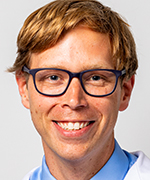 While studying the intricacies of histology (the microanatomy of cells, tissues and organs), he searched for a suitable study aid, but didn't find any to his liking.
"I was looking at the tools that were available to me – all the different flashcard e-tools – and I was just not quite happy with any of them," Fennell explained. "They didn't work quite the way I wanted them to."
So, as "a little side thing" in between his medical studies, Fennell custom-built his own app – called Omentum (Omentum.app). It grew in popularity with the medical students in the class of 2023, and Kenneth Beck – assistant professor of cell biology and human anatomy and IOR for the first-year Histology course – decided to adopt the tool. Fennell and Beck – along with medical students Samantha Wong and Joseph Bisoglio – continue to develop content for the Histology course.
Thus, what began as Fennell's own personal study aid gradually caught on with his classmates, to the point where a large percentage of MS1s and MS2s are now using Omentum.
Not bad for a self-taught, amateur programmer, working primarily with JavaScript.
"I have no software engineering degree; I did not go to school for it," Fennell said. "My knowledge is just a product of the truly spectacular number of generous people who have created courses and tutorials to learn how to do this stuff."
"Software engineering is a very, very different thing than medicine; you're using a different part of your brain. It's a fun puzzle, so it's almost a break."
Of course, Fennell's background in Silicon Valley also helped. After working in product development in the educational technology sector, Fennell – who had originally planned to pursue a Ph.D. in synthetic chemistry – found that he missed science and medicine. And so he wound up in med school at UC Davis.
Still, Fennell maintains his interest in coding and programming – if only as a pastime, something he calls a "productive procrastination technique."
"Software engineering is a very, very different thing than medicine; you're using a different part of your brain," Fennell explained. "It's a fun puzzle, so it's almost a break – it sounds like a bizarre thing to say, but you're using a different part of your brain to think about something totally different."
Fennell is also exploring ways to merge his knowledge and passions. To further grow his interest in educational tools and machine learning, he "cold emailed" Hooman Rashidi, professor of pathology and laboratory medicine, vice chair of GME and vice chair of informatics and computational pathology.
Rashidi – the co-founder, developer and senior editor of HematologyOutlines – responded positively to Fennell's offer to help further augment that popular hematology educational platform, used by medical schools around the world and endorsed by the American Society of Clinical Pathology.
Since January, Fennell has been working to adapt his homegrown Omentum software platform to the HematologyOutlines content, creating a supplementary app that enables students to review hematology and hematopathology material and empowers them to track their own progress and performance.
Along the way, Fennell has continued to tinker with and refine the app – thanks to feedback from student and faculty beta testers; the guidance of Kristin Olson, associate dean for curriculum and medical education and Elham Vali-Betts, assistant clinical professor of pathology and laboratory medicine; and Rashidi's energetic mentorship.
"Dr. Rashidi is just a really wonderful person to work with – incredibly supportive and enthusiastic, and has a 'Whatever we put our mind to, we can go do'-type of attitude, which I really appreciate," said Fennell, who also noted that HematologyOutlines co-founder John Nguyen provided additional review of app design and content.
The finished app – HematologyOutlines Flashcards – was released in mid-August, available for iOS devices and also as a web app. Rashidi, for his part, could not be happier with the result – or more excited about the software platform's potential to help even more learners better absorb and retain a wide range of subjects.
"I wouldn't ordinarily ask to spotlight a particular student unless they were doing something exceptional," explained Rashidi, who has mentored dozens of students over the years. "In Brandon's case, he's working on a platform that can potentially help many more departments and students."
This fall, Fennell will continue working with Rashidi – soaking up more knowledge about machine learning while honing his app-building skill set.
And though he insists that software programming is his mental break from the rigors of medical school, Fennell does recognize the limits of his time and capacity.
"I have no idea on how to do Android development – nor do I have the interest in learning," he laughed.