MRI room makeover helps ease patient stress during radiology procedures
Kid friendly décor is key part of Patient Friendly Environment Initiative at UC Davis Radiology
(SACRAMENTO)
Magnetic Resonance Imaging, or MRI, is an important diagnostic tool used to produce detailed images of organs and tissues in the body. But entering an MRI machine, let alone lying still in one of these large, tube-shaped devices, can be intimidating for patients – especially children. To ease fears and make the MRI process more efficient and less stressful, the Department of Radiology at UC Davis Health created a new, kid friendly environment for this procedure. They were able to do this thanks to funding from Children's Miracle Network Hospitals (CMN).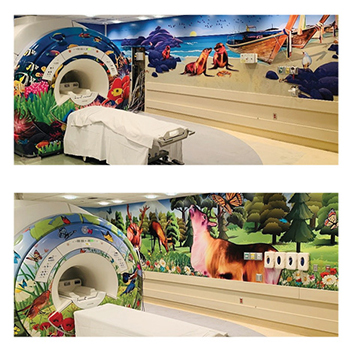 As part of the Patient Friendly Environment Initiative, Child Life Specialist Carla Andalis authored a CMN grant to enhance procedure rooms, helping to put kids at ease. MRI equipment and walls were "wrapped" with beach scenes, underwater adventures, animals and more.
"It is quite a transformation," said Diana Sundberg, manager of UC Davis Children's Hospital Child Life and Creative Arts Therapy department. "When you see the before and after, the difference is indescribable."
These colorful, themed murals help children relax and provide a distraction during the procedure.
"Just coming to the hospital can be overwhelming for kids. Having to have an MRI often takes their fears to the next level," said Andalis. "With this makeover, we are trying to normalize the environment, help reduce anxiety and enhance cooperation with the health care team."
Research also shows that when kids are calmer, less sedation is required to complete the procedure.
"Decreasing the need for sedation in radiology, especially MRIs, is one of our departmental goals," said Stephen Wetzel, UC Davis Health Imaging Services manager. "Kids who would have been sedated before are now able to have MRI scans without any anesthesia. That can be attributed to a combination of creative room design and help from child life specialists like Carla. It is a wonderful step for our pediatric radiology department and our patients."
In addition to funding this makeover project, CMN and its corporate partners have been instrumental in enabling the Child Life & Creative Arts Therapy department to expand services into other clinical areas like radiology within the children's hospital.
UC Davis Children's Hospital is the Sacramento region's only nationally ranked, comprehensive hospital providing care for infants, children, adolescents and young adults with primary, subspecialty and critical care. It includes the Central Valley's only pediatric emergency department and level I pediatric trauma center, which offers the highest level of care for its critically ill patients, as well as a level I children's surgery center. The 129-bed children's hospital includes the state-of-the-art 49-bed neonatal and 24-bed pediatric intensive care and pediatric cardiac intensive care units. For more information, visit children.ucdavis.edu.