New UC Davis Health blog spotlights bright minds, bold ideas 'cultivating health' in Sacramento and beyond
Discover how research, technology and expertise combine to advance health
As its name suggests, our new blog "Cultivating Health" explores an extraordinary growth process – how an idea germinates to meets a need, how that concept takes root and flourishes, and how a brilliant person and team make it all happen.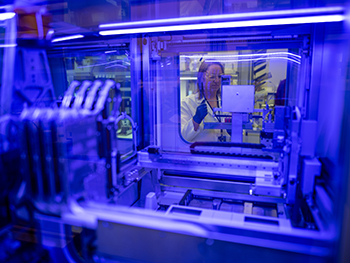 At UC Davis Health, these cultivators can be found in and across many departments and functions. With the latest research, cutting-edge technology and a deep reserve of expertise, they are exploring and developing creative approaches to challenging problems.
And, as a result, their innovations are improving the health of people in the Sacramento region, across the state and around the world.
Visit the blog to watch videos and read briefs about:
Neonatologist Kristin Hoffman and the effort to install webcams for every crib in the NICU, so parents can stay connected with their babies until they can go home
Elisa Tong, medical director for UC Davis Comprehensive Cancer Center's Stop Tobacco Program (SToP), and her novel programs that are helping people quit tobacco and live better lives
Brandi Hawk, co-developer/supervisor of the PC-Care program at the UC Davis CAARE Center, and the seven-week intervention that dramatically improves parent-child relationships
Senior director of clinical pathology Nam Tran and UC Davis Health's ability to conduct up to 1,000 COVID-19 tests per day, thanks to a game-changing robot and skilled lab scientists
Bookmark the blog and check back regularly to discover the latest ways that UC Davis Health providers and staff are "cultivating health!"