New website dedicated to education and awareness about firearm injury prevention
"BulletPoints" site is a resource for health professionals
(SACRAMENTO)
The BulletPoints Project, part of the University of California's Firearm Violence Research Center (UCFC), has launched a new resource-rich website to enhance education, training and awareness about firearm injury prevention for medical and mental health professionals.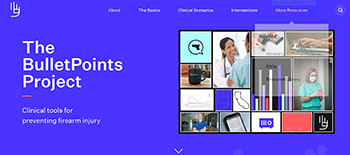 The website is designed to fill gaps in knowledge and experience by developing, implementing and evaluating training programs for health care providers to work with patients to prevent firearm-related harm.
"We created the BulletPoints website to equip providers with clinically-relevant knowledge about firearms, their uses, benefits, risks and safety," said Amy Barnhorst, director of the project and an associate professor of psychiatry and behavioral sciences and emergency medicine at UC Davis Health. "Just as clinicians discuss other potential household health dangers like cigarettes, swimming pools or medications, there's a big need to help clinicians be comfortable in talking with their patients about the risks of firearm access."
Barnhorst noted that many major health care organizations and medical societies see firearm violence as a public health problem. They have encouraged more education for clinicians about how to communicate with patients about gun violence.
Unfortunately, firearm injury prevention remains largely absent in medical school curricula and other training programs for doctors, nurses and other health care providers.
"Providers often feel like they don't have adequate knowledge about firearms and the risks they pose, and what providers can do when they find out a patient is at risk of injury," said Barnhorst. "Clinicians have been asking for more information on how to have conversations and make recommendations that will help them keep patients and their loved ones safe."
"...there's a big need to help clinicians be comfortable in talking with their patients about the risks of firearm access."
— Amy Barnhorst
The BulletPoints Project is the result of legislation, authored by Assemblymember Marc Berman, that was signed into law by Governor Newsom in 2019. It provided nearly $4 million for the development, distribution and evaluation of a curriculum to teach medical and mental healthcare providers about counseling and intervening with patients at risk of firearm injury (suicide, violence or accidental injury).
"BulletPoints puts public funds to work saving lives," said Garen Wintemute, professor of emergency medicine and director of the research center.
The new web site has three main sections:
The Basics (how to counsel patients, epidemiology, and more)
Clinical Scenarios in which firearms might be relevant (including suicide and accidental injury)
Interventions (safe storage counseling, gun violence restraining orders, etc.)
BulletPoints also features a blog, FAQs, a glossary of terms, and links to related external resources, including peer-reviewed journal articles.
"We'll continue to build onto the website, first with a section designed specifically for medical educators," said Rocco Pallin, director of education for the project. "It will include lessons on firearms and public health, scripts for risk assessment and counseling at-risk patients, presentation slide sets about firearm injury prevention, and other tools for educating the next generation of clinicians on how they can reduce their patients' risk of firearm injury."
Other resources, including a variety of online and in-person training programs, will also be created by the BulletPoints Project as it evolves and gathers momentum. The training programs will cover the following areas:
Firearm injury scope and trends
Determinants of risk for firearm injury
Prevention strategies
Health care providers' roles in prevention
Provider training in firearms, including uses, benefits and risks of ownership and storage practices
Assessing risk for firearm-related harm
Best practices for talking with at-risk patients
Tools for providers in presence of acute risk
Relevant California firearm policies
"We envision BulletPoints as truly becoming a go-to resource for health professionals," added Barnhorst. "Firearm violence is a public health hazard, and health care providers are in a unique position to intervene if they have the right knowledge and training."