NorCal AIDS Ride benefits UC Davis Pediatric Infectious Diseases
(SACRAMENTO)
When cyclists jump on their bikes May 21-22, their ride across Sacramento will benefit young HIV patients at UC Davis Health.
The Division of Infectious Diseases at UC Davis Children's Hospital is, once again, a beneficiary of the NorCal AIDS Cycle on May 21-22. The race raises money and awareness for HIV/AIDS service providers in the Sacramento Valley and beyond. The public is invited to donate or participate.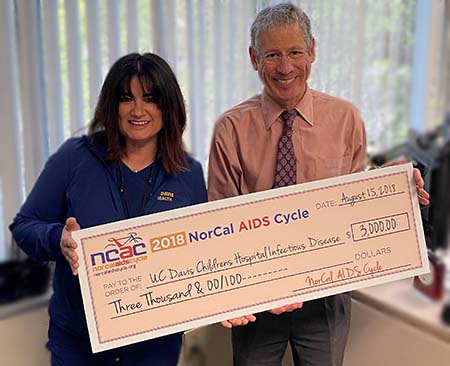 On May 21, cyclists and crew members have three route options to choose from: 38 miles, 62 miles or 100 miles. On May 22, they all ride 41 miles. Both race days start and end in Sacramento. Registration is $50. Cyclists are required to raise a minimum of $1,000. Crew members are required to raise a minimum of $500 to participate.
NorCal AIDS Cycle is also hosting a wine tasting and martinis fundraising event on Friday, April 29, which will benefit the infectious diseases division as well. The event is at 79 Northlite Circle in Sacramento from 6 to 9 p.m. Guests can enjoy hors d'oeuvres, wine from Bogle Vineyards and martinis. A silent auction includes paintings and sculptures from local artists and more. A suggested minimum donation of $25 is encouraged. RSVP for the event.
"We have been able to help several of our pediatric HIV patients with the funds we have been granted through the NorCal AIDS Cycle," said Tami Emslie, clinical resource nurse with the UC Davis Pediatric Specialty Clinics. "We have been able to provide gift cards for everyday necessities, holiday gifts to those who do not normally receive much, and incentives for patients who are struggling with medication adherence. We are grateful for NorCal AIDS Cycle for what they have provided us to help our kids."
The Division of Infectious Diseases at UC Davis Children's Hospital specializes in treating infants, children and adolescents who have contracted infectious diseases such as HIV. Physicians specializing in infectious diseases also perform clinical research studies with new vaccine and HIV treatments.
For more information about the NorCal AIDS Cycle, download the flyer or email ncaceventinfo@gmail.com.