Nurse Residency Program earns ANCC accreditation, with distinction
Key training program for new nurses earns important designation
(SACRAMENTO)
With confetti and cheers at the ready, a group of nurse leaders and nurses heard the exciting news today: UC Davis Health's Nurse Residency Program has been accredited, with distinction, by the American Nurse Credentialing Center (ANCC). It is the first and only program in the Sacramento region to earn this status.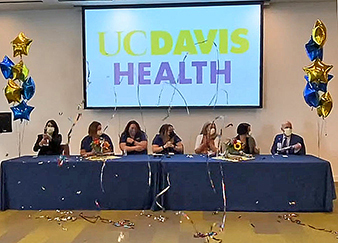 "We've been working toward this for a long time, so it was great to finally hear the words," said Alicia Vasey, nurse residency program director.
Vasey was among those who were on a conference call with the ANCC when the announcement was made.
"Accreditation elevates our nurse residency program to another level," said Toby Marsh, chief nursing and patient care services officer. "It demonstrates what we've pursing for years: a residency program that sets the highest standards of excellence in training our new nurses and furthering our vision of providing the highest quality of patient care provided through the advancement of nursing practice."
The ANCC's accreditation program is designed to set the global standard for residency and fellowship programs that transition new RNs (registered nurses) into patient care settings.
UC Davis' nurse residency program was established 2012 to increase the expertise of the nursing workforce, benefit patient outcomes, increase nurse retention rates, and strengthen a commitment to the nursing profession.
The popular one-year program is designed to help new graduate nurses transition into their clinical roles. The program utilizes curriculum from the Vizient/American Association of Colleges of Nursing, which includes carefully designed classes and teaching methods to support clinical skill development, improve critical thinking, enhance professional growth, and promote evidence-based practice. Through a series of learning and work experiences, the program enables new nurses to successfully transition from student to confident professional in their chosen nursing career path.
"What's also unique about the ANCC Practice Transition Accreditation Program is that it's recognized by the U.S. Department of Labor as one that meets the standards for industry-recognized apprenticeship programs," added Vasey. "That means that our residency participants receive a highly regarded curriculum and guidance from experienced nurse preceptors that helps them make the leap from nursing education to clinical practice."
"ANCC accreditation for our nurse residency program," said Marsh, "is a key element in our continual focus on improving patient care by supporting and encouraging the best in professional development."