Overnight shift employees eager to receive COVID-19 vaccine
UC Davis Health offers pandemic-fighting inoculation from 5 a.m. to 10 p.m.
(SACRAMENTO)
Dozens of overnight shift employees from the emergency department (ED) fought back against a common enemy early Wednesday by getting inoculated against the coronavirus.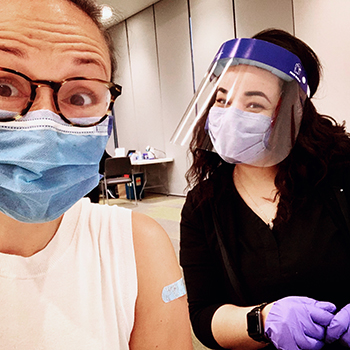 The first-ever COVID-19 vaccine, developed by Pfizer and BioNTech, arrived at UC Davis Medical Center on a Fed-Ex truck at 7:16 a.m. Tuesday. Within hours, it was administered to 145 day-shift workers.
Then, beginning at 4 a.m. Wednesday, the vaccine was offered to dozens of employees who spend their nights performing some of the riskiest jobs – working with and near patients who have come to the hospital with coronavirus.
"It feels exciting to get the vaccine," said Conan Liu, a physician waiting for his injection. "This is of paramount importance for people working in the ED right now."
The medical center received vials containing 4,875 doses of the Pfizer vaccine, and more are on the way.
Employee Health Services, which is coordinating the vaccination effort, has set up a clinic in the auditorium of the North Addition Office Building, which is open daily for injections, from 5 a.m. to 10 p.m. by appointment. [Note: employees will be contacted by EHS for their appointment after completing the Opt-In survey. Please do not complete the survey more than once; EHS will contact you.] Some drop-in vaccinations will be available during clinic hours. The clinic will have a modified 5 a.m. – 12:45 p.m. schedule on Dec. 24 and will be closed on Dec. 25 and Jan. 1.
UC Davis Health leaders say it's critical that employees on every shift get vaccinated as quickly as possible to fight a pandemic that has infected about 17 million people in the United States – and killed more than 305,000 of them.
The early-morning employees Wednesday – environmental services workers, hospital assistants, ED techs, registered nurses, doctors – walked excitedly in groups to the vaccination auditorium on the opposite end of the medical center.
They smiled under their blue and yellow masks and gave hearty thanks to the nurses from Employee Health Services who administered the much-needed shots.
The shot was such a momentous occasion for Alicia Agnoli, a family medicine physician who works on the COVID ward, that she took a selfie with the nurse who injected her.
"This is incredible, this is a major step forward in our ability to protect ourselves, our patients and our community against this terrible virus," Agnoli said. "Many of my patients have lost someone they know to this, and for the better part of the year we've lived in just absolute terror."
Within the first three hours of operation, 60 people had been vaccinated.
Registered Nurse Benny Gabriel was among them. He treats patients with COVID and also lives in fear about contracting the virus. "We don't want it to happen to us and our families," he said.
Hospital assistant Bethanni Riedel has seen a lot of people suffering from the consequences of COVID, too. She said health care workers should lead by example in the effort to battle the virus: "It's really important to try to get ahead of it and show the public that it's OK to get the vaccine."