Partnership with community hospital in Lodi featured in NEJM Catalyst
(SACRAMENTO)
UC Davis Health's partnership with Adventist Health Lodi Memorial Hospital (AHLM) was highlighted in a recent issue of New England Journal of Medicine (NEJM) Catalyst.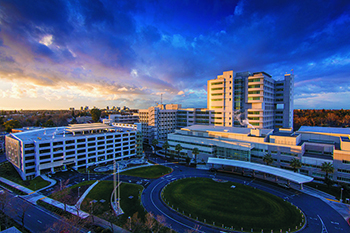 The case study was authored by Pediatric Medical Director Michelle Y. Hamline, Strategic Business Specialist Kelly Forman, Director of Community Hospital Affiliations and Partnerships Khanh-Nhat Tran-Viet, Chief of the Division of Pediatric Hospital Medicine Heather McKnight, Chair of Pediatrics Satyan Lakshminrusimha, and UC Davis Health CEO David Lubarsky.
"UC Davis has a national reputation for treating complex diseases, but care is expensive, and despite serving a vast geography, care is largely bound to the medical center in Sacramento," reads the article summary. "A new partnership between their tertiary care academic medical center and a not-for-profit community hospital, termed 'constructive self-cannibalism,' designed to increase pediatric skill level and keep more patients near their homes, produced a marked increase in admissions at the community hospital as well as a reduced length of stay at the hospital."
The article found that although transfers to the academic medical center decreased, the severity of illness of the transferred patients increased. This increase in complexity of transferred patients benefited UC Davis, while also allowing many children with lower severity illnesses to be cared for at a hospital closer to home.
The authors conclude, "As health care reform continues to challenge how we deliver care, it is vital that we think innovatively to create a more integrated care-delivery model. A model in which community and academic hospitals complement one another, rather than compete, serves as a winning strategy for both organizations."
To read the article, titled, "Constructive Self-Cannibalism: Pediatric Affiliation Between an Academic University and a Community Hospital," visit the NEJM Catalyst website.
Related stories
Adventist Health Lodi Memorial celebrates partnership with UC Davis Health at community event
Adventist Health Lodi Memorial announces level II NICU
Adventist Health Lodi Memorial and UC Davis Health announce partnership
UC Davis Health, Adventist Health Lodi Memorial launch telehealth ICU services