Patients to get easier, quicker access to their health records
Federal law requires 'open notes' for almost everything
A big change is coming to patient access to electronic health record information. Starting Monday, Nov. 16, UC Davis Health will begin sharing almost all notes with patients.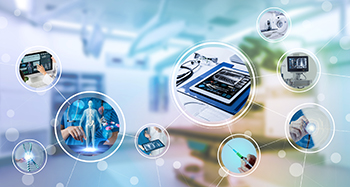 Patients have always had the right to access their medical records. This change simply makes the information easier for patients to view. In this case, patients will see the clinical information via the MyUCDavisHealth (formerly MyChart) portal. Most test results ̶ lab, radiology, and procedures ̶ will also be shared with patients when finalized.
One significant benefit of more accessible and open notes is better patient engagement through a deeper understanding of their condition and care.
"Many organizations have already started sharing notes with patients," said Scott MacDonald, an internist who serves as medical director for UC Davis Health's electronic health records system and has helped lead the open notes initiative for the health system. "We've tested the change in patient access with several departments and it's been a favorable process so far. About 10 to 15% of patients have read their notes, and while requests to change notes happen, it appears to have minimal impact on clinician workloads."
The change, which is being implemented by health providers throughout the nation, stems from a federal law that was passed several years ago called the 21st Century Cures Act. Among its rules, health care providers are prohibited from doing anything that interferes with the access, exchange, or use of electronic health information.
There are some exceptions to immediate patient access to results. Biopsies showing cancer, HIV and hepatitis, as well as clinical research. "State law does mandate that providers discuss with their patients possibly life-changing results like cancer diagnoses before the results are automatically posted online," said MacDonald.
The federal law also allows note authors (physicians, nurses, allied health care professionals) to NOT share a note under certain strict conditions, such as when the information might lead to a violation of someone's privacy or could lead to physical harm.
UC Davis Health is only releasing provider notes going forward from Nov. 16. Older notes will still be available through the Health Information Management (HIM) request process.
Over time, the complete health record will be available to patients. Patients also will be able to share their health information through third-party apps such as Apple Health.
To help explain some of the details, a UC Davis Health team from clinical, HIM, Legal, Compliance and IT departments, has put together this Frequently Asked Questions document about the changes in patient access to their health information.