Pilot grants boost COVID-19 research
Projects focus on effects of the pandemic on families and patient care
(SACRAMENTO)
The Center for Healthcare Policy and Research, Center for Health and Technology and Behavioral Health Center of Excellence at UC Davis have collaborated to provide $90,000 for a range of research on the impact of COVID-19.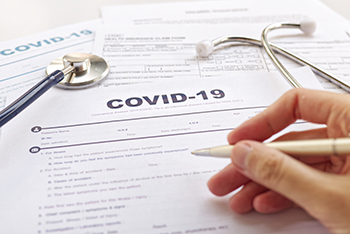 The funding will go to five projects that explore the effects of the pandemic on mental health, breast cancer screening, NICU care, children with disabilities and post-surgery therapy.
"We selected projects that were most likely to provide quick answers to some of the unique health challenges of COVID-19 and that have the greatest promise of leading to larger studies," said Joy Melnikow, director of the Center for Healthcare Policy and Research.
Selected projects and researchers
Parenting During the COVID-19 Pandemic: Implications for Parent and Child Mental Health and Well-Being led by Paul Hastings and Camelia Hostinar of the Center for Mind and Brain and the Department of Psychology. They will assess the long-term ramifications of pandemic-related and stay-at-home stressors on the mental and physical health of parents and children.
Impacts of COVID-19 on the Neurodevelopmental Community and a Plan for Continued Care led by Leonard Abbeduto of the Department of Psychiatry and Behavioral Sciences and director of the UC Davis MIND Institute. Abbeduto and graduate student researcher Lauren Bullard will determine the impact of COVID-19-related closures of services for children with autism spectrum disorder, Down syndrome and fragile X syndrome. They also will examine strategies for mitigation.
Virtual Family-Centered Rounds During COVID-19 in the Neonatal Intensive Care Unit led by Jennifer Rosenthal in collaboration with Kristin Hoffman of the Department of Pediatrics. These researchers will study the use of video communications for virtual "family-centered rounds" in the neonatal intensive care unit while in-person visits were limited.
Sacramento-Area Breast Imaging Registry: Impact of COVID-19 on Breast Cancer Screening, Surveillance, Diagnosis and Treatment led by Diana Miglioretti, division chief of biostatistics in the Department of Public Health Sciences. She will assess delays in breast cancer screening and care, especially among vulnerable populations, due to COVID-19.
Hand Therapy App Video-Visit Optimized Care Study: Maintaining Hand Surgery Outcomes Amidst COVID-19 Pandemic led by Clifford Pereira in collaboration with Chetan Irwin and Andrew Li of the Department of Surgery. These hand surgeons linked a smart phone app with telehealth to provide convenient, post-operative, at-home hand therapy for patients. The new funding will help them assess and refine the technology.
Updates on these projects will be posted on the Center for Healthcare Policy and Research website at health.ucdavis.edu/chpr and included in the center's e-newsletter (sign up by emailing hs-chpr@ucdavis.edu).